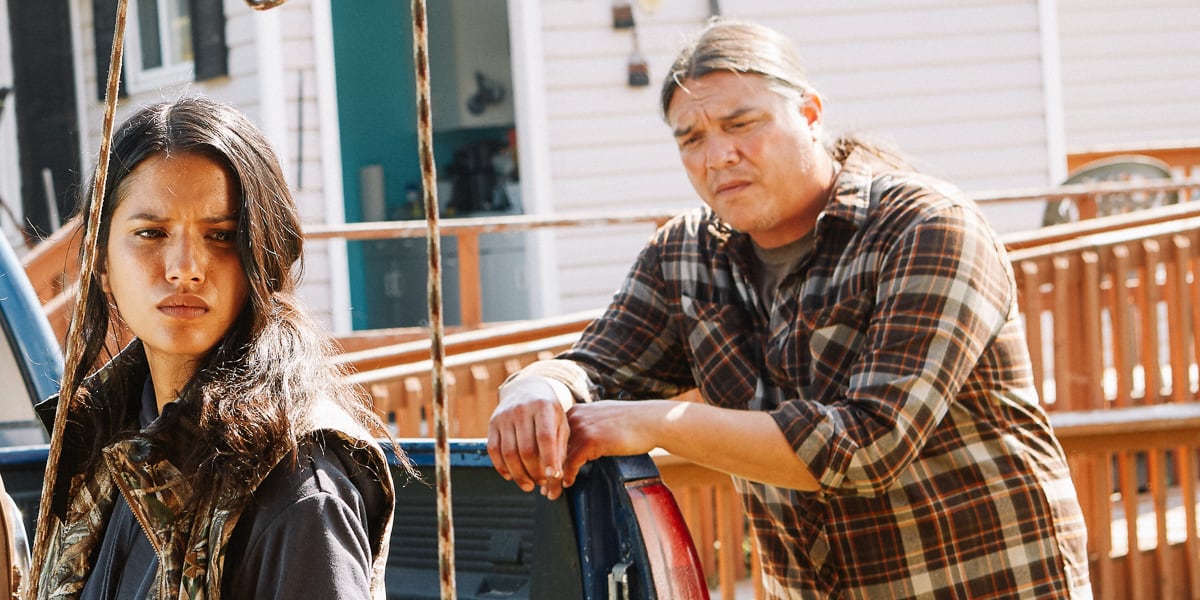 Don McKellar and Tina Keeper and Face2Face host David Peck talk about their new film Through Black Spruce, residential school and family history, responsibility of Canadians, a lack of understanding and stories and truth.
Synopsis
The film was shot on location in Moosonee, Moose Cree First Nation, Sudbury, Atikameksheng Anishinawbek First Nation, Killarney and Toronto, Ontario and it's a 'Collaboration and reconciliation,' says producer Tina Keeper. 'That's what this production was all about. Indigenous and non-indigenous filmmakers coming together to tell a story that mattered to everyone.' It's the project she's been building towards since founding Kistikan Pictures back in 2010, in partnership with Buffalo Gal Pictures in Winnipeg. The company is dedicated to the development and production of film and television with Indigenous artists.
Based on the Giller Award-winning novel of the same name by Joseph Boyden, Through Black Spruce is a story of identity and survival. The disappearance of a young Indigenous woman named Suzanne Bird triggers events in two worlds: in Moosonee, the remote Northern Ontario community she fled years ago, and Toronto, where she modelled for a while before vanishing into the ether.
Her sister Annie is a hunter, a fiercely-independent woman who's always resented her weaker twin. But their mother's despair sends her south to retrace Suzanne's steps. Her life in Moosonee soon recedes as she's drawn into the glittering "artists and models" scene her sister left behind. Meanwhile, her uncle Will copes with the dangerous consequences of Suzanne's disappearance… and comes up against the ghosts of his own private tragedy. The two worlds finally collide in the fallout from the missing woman's troubled life.
Biography
Don McKellar
Don McKellar was born in Canada and has had a varied career as a writer, director and actor. He was the screenwriter of Roadkill and Highway 61, and co-writer of Dance Me Outside, the Genie Award-winning Thirty Two Short Films About Glenn Gould and The Red Violin (he also appeared in the latter two). He received a Genie Award as Best Supporting Actor for his role in Atom Egoyan's Exotica and the Prix de la Jeunesse at Cannes for his directorial debut, Last Night, which he also wrote and starred in. He also wrote, directed and played the lead in his second film, Childstar.
His stage writing credits include the five plays he co-created with the Augusta Company and the book for the musical The Drowsy Chaperone, for which he won a Tony Award. He also wrote and starred in the CBC television series Twitch City.
Other film and television appearances include David Cronenberg's eXistenZ, Atom Egoyan's Where the Truth Lies and the series Slings and Arrows for the Sundance Channel. He collaborated on the film adaptation of Jose Saramago's Nobel Prize-winning novel Blindness. Directed by Fernando Mereilles, he also starred with Julianne Moore, Gael Garcia Bernal and Mark Ruffalo.
His recent work includes the Max Films feature The Grand Seduction, for which he won a DGC Award for Best Direction in 2014.
Tina Keeper
Tina Keeper is Cree, originally from Norway House Cree Nation, now a Winnipeg based media producer. She is President of Kistikan Pictures, a partner company to Buffalo Gal Pictures. Tina was formerly an actor, best known for her work on the hit Canadian series North of 60. Recent productions include Through Black Spruce, the 360-3D VR short film Sky Stories, Road of Iniquity, the critically acclaimed Royal Winnipeg Ballet, Going Home Star about the Indian Residential School history in Canada, and The REDress REdress Project a short documentary on the issue of Murdered and Missing Aboriginal women in Manitoba.
Tina also served as a Member of Parliament for the federal riding of Churchill.
Tina has a BA Theatre from the University of Winnipeg and has trained at the Centre for Indigenous Theatre, the Banff Centre and the Sundance Film Institute Tina currently serves as Chairperson of the board of trustees for the Helen Betty Osborne Memorial Foundation, member of the advisory Committee to Urban Shaman Gallery, the advisory committee to Red Cross Manitoba, Honourary Witness for the Truth and Reconciliation Commission, and is member of the Order of Manitoba, Canadians for a New Partnership, a recipient of an Aboriginal Achievement Award, a Gemini Award, 3 American Indian Film Festival awards for acting and producing, a 2014 Canadian Civil Liberties Association award for Public Engagement, was named ACTRA's 2017 Women of the Year.
In June 2017, Tina received an Honorary Doctor of Letters from Wilfred Laurier University and a Governor General Meritorious Service Medal along with the late Elder Mary Richard, and RWB Artistic Director Andre Lewis for the ballet Going Home Star.
Image Copyright: Serendipity and D Films. Used with permission.
For more information about David Peck's podcasting, writing and public speaking please visit his site here.
With thanks to producer Josh Snethlage and Mixed Media Sound.