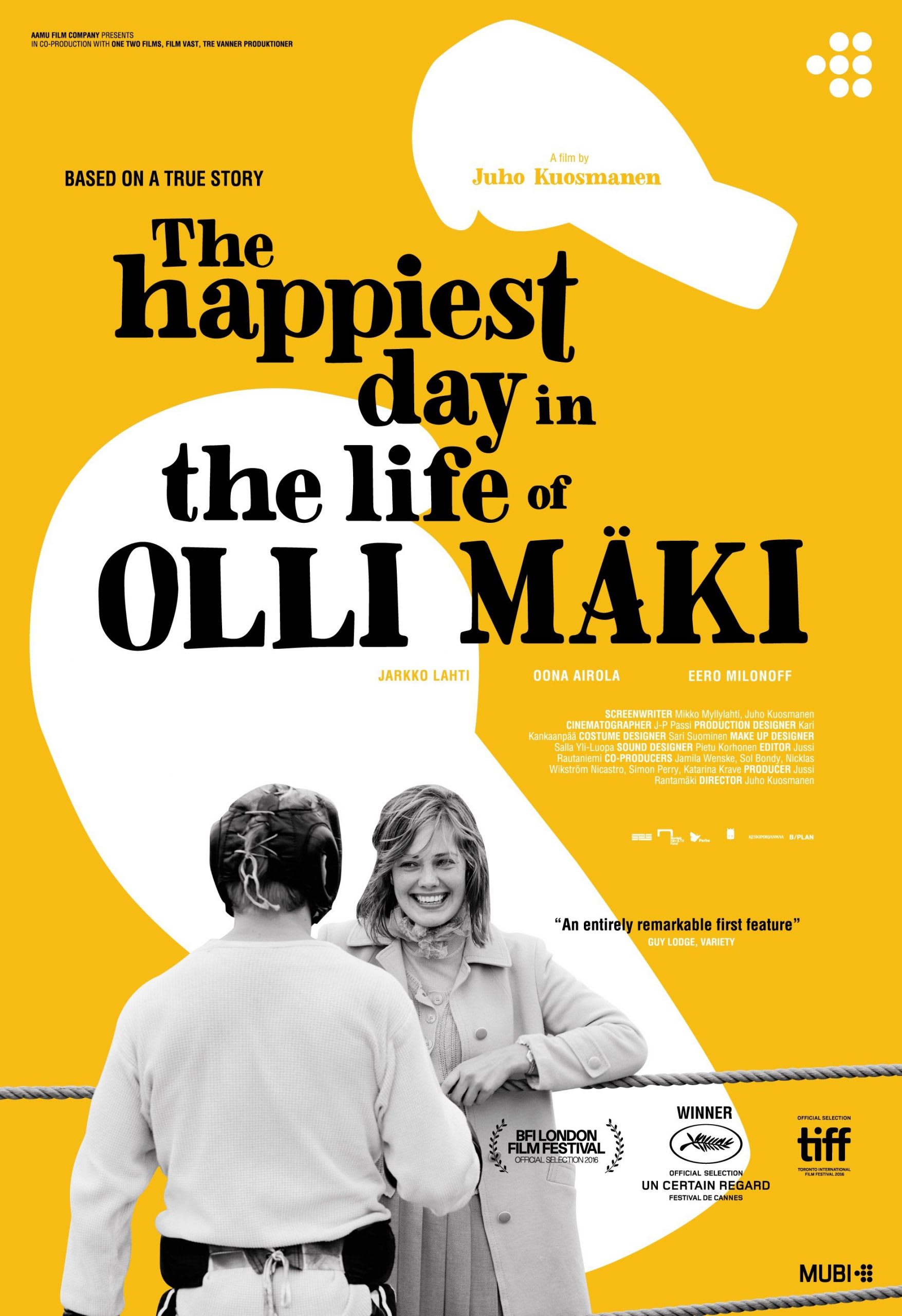 Juho and Jarrko and I talk about love stories, boxing as a metaphor, what's important in life and how not to be cynical.
For more information about TIFF go here.
More info about the film here.
Synopsis
Winner of a top prize at this year's Cannes festival, the irresistibly charming debut feature from Juho Kuosmanen is a funny and forlorn comedy-drama inspired by the real-life showdown between Finnish boxer Olli Mäki and American champion Davey Moore in 1962 Helsinki.
Funny, forlorn, and irresistibly charming, Juho Kuosmanen's assured debut feature The Happiest Day in the Life of Olli Mäki, which won the top prize in the Un Certain Regard section at this year's Cannes, is inspired by the true story of Finland's most successful boxer of the 1960s. Shot in black and white with scrupulous attention to period detail, the film centres on the prelude to Mäki's historic fight in Helsinki with American Davey Moore, the bantamweight champion of the world.
Almost painfully open and ingenuous, Olli (Jarkko Lahti) is a small-town boy who is just as happy baking bread as he is in the ring — and he's even happier when he's with Raija (Oona Airola), the level-headed beauty he finds himself falling for. Elis (Eero Milonoff ), Olli's manager, is the exact opposite of his fighter: a former boxer himself, Elis is a hyperbolic showman who promises the press corps a "spectacle never seen in Finland," a world-historic event worthy of the Americans. As Olli begins wilting under the pressure from the constant press scrums, his desperate attempts to lose weight, and his separation from Raija, Elis faces his own challenges from his wife (who effortlessly sees through his various hustles), his financial backers, and his American partners.
Full of trenchant commentary about the sports industry and, by extension, the entertainment industry — there's an amazing sequence at a post-bout cocktail party where it's quite clear that the two athletes are the least important people there — the film also wittily depicts a small nation's unease and excitement about its "debut" on the world stage. A rueful yet delightfully disarming ode to lost innocence, The Happiest Day in the Life of Olli Mäki is also one of the most indelible romances you will see this year.
Biography
Juho Kuosmanen is a Helsinki based filmmaker. His previous short films have won several prizes in prominent festivals including Cannes' Cinéfondation and Locarno. He graduated from the ELO Helsinki Film School of Aalto University in 2014.
Along with his studies Kuosmanen has also acted and directed for the stage and worked closely with the avant-garde opera ensemble West Coast Kokkola Opera.
The Happiest Day in the Life of Olli Mäki is Juho Kuosmanen's first feature length film.
Podcast: Play in new window | Download