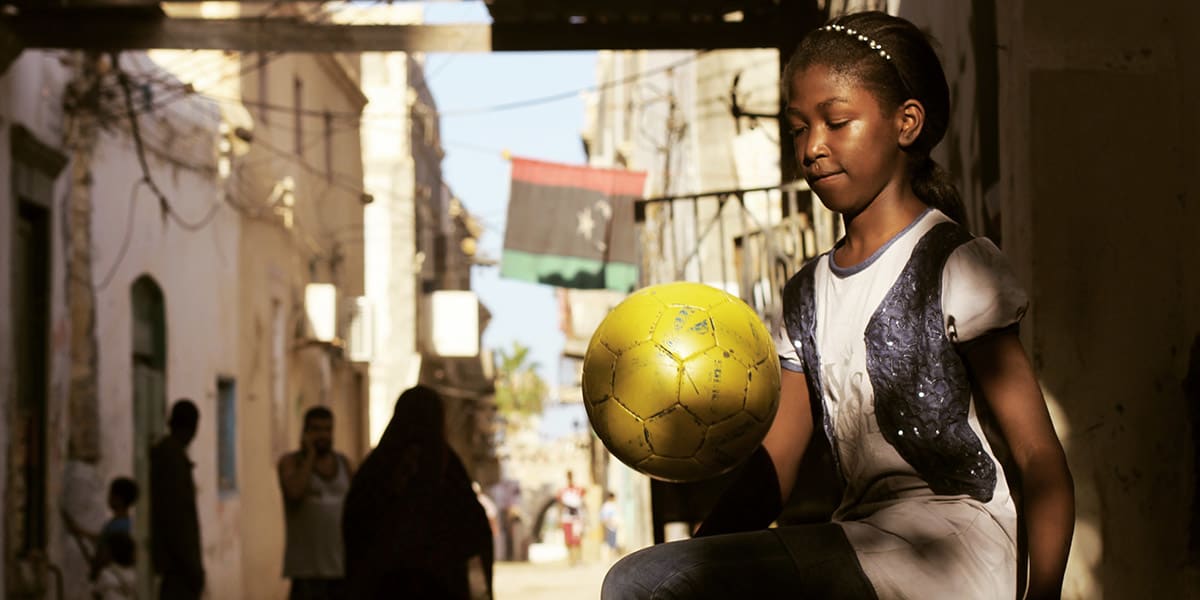 Nazeha Arebi and Face2Face host David Peck talk about her new film Freedom Fields, Libya, the politics of religion, inspiration and empowerment, gender disparity, joy, fear and the love for life and stepping outside of the norm.
Synopsis
Filmed over five years, FREEDOM FIELDS follows three women and their football team in post-revolution Libya, as the country descends into civil war and the utopian hopes of the Arab Spring begin to fade. Through the eyes of these accidental activists, we see the reality of a country in transition, where the personal stories of love and aspirations collide with History. It's an intimate film about hope, struggle and sacrifice in a land where dreams seem a luxury. It's a love letter to sisterhood and the power of the 'team'.
Biography
A Libyan/British artist and filmmaker, with a background in theatre, who works at the cross section between cinema and activism, Naziha returned to Libya after the revolution to work and explore her father's homeland. She directed two short documentaries there, worked as writer and production manager with BBC Media Action on educational shorts and worked on a film with Jarreth Merz documenting the first ever Libyan elections.
In 2012, she co-founded HuNa Productions with Huda Abuzeid, a Tripoli-based collective, aiming at improving and developing Libyan cinema as a tool for change.
She recently completed a series of educational shorts on Libyan reconciliation shot in 14 towns across Libya, worked as cinematographer on a 52' documentary in Libya about the Tabu tribe, shot a 24' documentary on tragically assassinated Libyan activist Salwa Bughaghis for UN Women and Libyan Women's Platform For Peace. She also makes content for Hivos with a focus on women, in the MENA region.
Naziha's photography has been published in The Monocle, Brownbook, RUKH, Critical Muslim, The Outpost, Mashallah News, Vitra Design and exhibited in London, Paris, Malta, Tunisia, Barcelona, Ivory Coast, Dubai, Senegal, Geneva, Germany and Libya. In 2013 she was part of Documentary Campus eV (MENA) and is a HotDocs Blue Ice and a Sundance Lab fellow. She is also a WEF Global Shaper, a Beyond Borders #1325 fellow and is part of the Lumieres D'Afrique Collective. As well as directing her first feature, FREEDOM FIELDS, she is also currently producing another feature documentary in Libya, AFTER A REVOLUTION, in collaboration with Met Film (UK), EIE Film (Italy) and Urban Republic (USA).
Image Copyright: Nazeha Arebi. Used with permission.
For more information about David Peck's podcasting, writing and public speaking please visit his site here.
With thanks to producer Josh Snethlage and Mixed Media Sound.