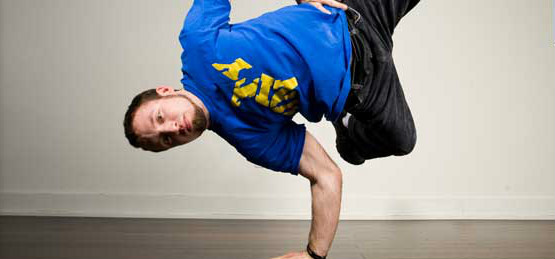 Michael is a social entrepreneur who's been "…trying, failing and figuring it out…" for years now. Listen in as he talks about how he won't waste time, how he doesn't think that common sense is all that common and why he has preferred seeing the world upside down from the age of three.
Bio
Michael Prosserman aka "Bboy Piecez" found his passion for break dancing at a very young age. By the time he was three, Michael was already standing on his head while watching Saturday morning cartoons. Michael started UNITY Charity at the age of sixteen when he realized that he wanted to share his positive self-expression with other young people undergoing all kinds of challenges.
By the age of eighteen Michael had begun to gain recognition for his passion as he was accepted into the pool of performers for Cirque Du Soleil, featured in the major motion picture "Honey" and has subsequently competed in Japan, Italy, Holland, Thailand, California, Hong Kong, New York, Jamaica, and the Yukon against many of the world's top break dancers.  In addition to competing Michael used dance as a means of developing a variety of skills that are not traditionally taught in school. Michael decided he wanted to share this alternative education with other young people and expanded UNITY as a student club at York University. The idea behind UNITY earned Michael a spot as a finalist for the Top 20 Under 20 award.  However while all of the positives were occurring in Michael's life at this time Michael was devastated to learn that he suffered from a chronic neck condition that would limit his dancing forever.  It was after this life altering revelation Michael decided to make UNITY his priority.   Since 2007, UNITY has reached over 30,000 young people across Canada and despite his challenges, Michael continues to dance and is determined to expand UNITY Charity around the world.   While Executive Director of UNITY Charity Michael has received the Vital People award from the Toronto Community Foundation, and was invited to present at TED x Youth Toronto.