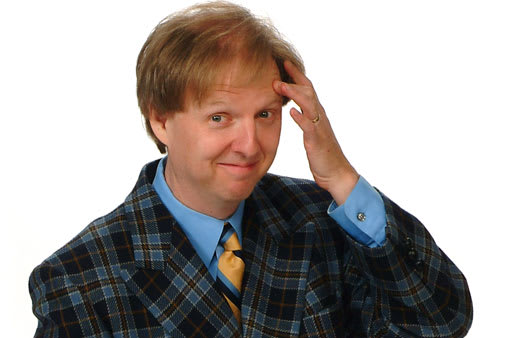 Mac and I talk about comedy and magic, show business and working in Las Vegas and why he's a good listener and how that makes him a better performer and why nice guys don't always finish last.
Biography
Acclaimed by MAGIC Magazine as the premiere comedy magician in the world today, magician and comedian Mac King was just named "Magician of the Year" by the Magic Castle in Hollywood, just broke a Guinness World Record, has appeared on seven TV specials for NBC-TV, just got voted the 6th best show in all of Las Vegas, just rocked on The Late Show With David Letterman, and his book from Random House just entered it's ninth printing. How did a kid from Louisville, Kentucky find himself in the enviable position of being perhaps the funniest magician in America?
Mac became interested in magic as a kid because both of his grandfathers (Elwood Huffman and Pax King) were keen amateur magicians. Elwood would perform a trick for Mac, and when asked how he did it, Elwood would point to his shelf of magic books and say, "It's in one of those." Mac would then have to sort through all the books looking for how to do that particular trick. A few years later it finally occurred to Mac that this was merely Elwood's little scam to get Mac to read more books!
As a kid Mac would do a show for his family and friends just about any time he could, but his first paid show was for one of the Herbert kid's birthday party when Mac was 10. He got a whopping five bucks cash (plus cake). The first show he was paid by check was for his Grandfather Elwood's Kiwanis Club in Greenville, Kentucky. Mac got 35 dollars for that show (but no cake).
After moving to Los Angeles in 1987 Mac's amazing visual style of magic, and offbeat (but decidedly friendly) approach to comedy eventually caught the eye of the producers of all the stand-up comedy TV shows like An Evening at the IMPROV andComic Strip Live that were so popular in the late 80's.
In the last few years, magic shows on television have become more popular than ever, and Mac has been there from the beginning. That beginning was, of course, with David Copperfield. Mac had developed a magic trick that just wasn't right for his own show, but David thought enough of it to pay Mac for it and put in his live show and then on his television special later that year. The next year, the same thing happened with Penn and Teller. Mac was beginning to make a name for himself as a creative force in the magic world.
All that attention garnered Mac a showcase for the producers of NBC-TV's The Worlds Greatest Magic shows. His unique hilarious tricks, including his ability to make his head cave in, landed him a spot on the first of these highly rated annual specials. After seeing him on that show, all of the people involved just had to have him in their next big NBC magic show,Houdini: Unlocking His Secrets where Mac performed his absurdly comical rendition of Houdini's Thumb Tie Trick. The segments Mac devised the following year for The World's Greatest Magic II were so popular that The Mac King School of Magic became a regular fixture on all of The World's Greatest Magic shows. Mac is the only performer to appear on all five of these exceptionally well-received shows. His success on those programs landed him a spot on another NBC special, The World's Wildest Magic. Which, in turn, lead to him being featured on Penn and Teller's Sin City Spectacular.
At the end of 1999 Mac made his first appearance on the new syndicated Donny and Marie Show, where he performed his Amazing Goldfish Trick. Using a small piece of a Fig Newton as bait, Mac caught live goldfish on a fishing line cast out over the heads of the audience. His October appearance was so successful that it made their year-end highlight show of The Best of 1999. Mac made 4 appearances on their show before it was cancelled (not Mac's fault). And a couple of months ago his house was featured on Home and Garden Television.
Several of his works are available, such as Mac King's Lunchbox-O-Magic, Mac King's Book-O-Magic and Mac King's Magic In A Minute Suitcase-O-Magic, boxed kits at retail outlets everywhere and online. Mac's hilarious how-to book, Tricks With Your Head just entered it's 9th printing with Random House. Just released is a book of magic to do around the campfire, Campfire Magic, produced by specialty book publisher Black Dog and Leventhal. With all this stuff out there, Mac has probably started more beginners on the road to magic as a hobby than anyone else, ever.
To learn more about Mac head to his website here.