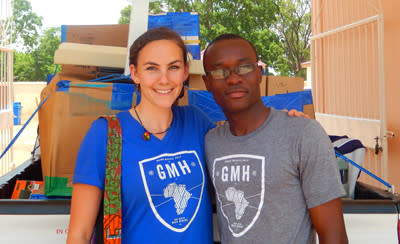 Kelly has a great story to tell and is a woman with a cause. Listen in as she proves that little things do indeed make a big difference and that moving the needle from a social change perspective requires commitment, passion and focus.
Biography
Inspired by her Uncle, Canadian astronaut Cmdr (Ret'd) Chris Hadfield, Kelly Hadfield was raised recognizing that a person has no limits to what they can accomplish. In 2007, Kelly co-founded a local non-profit organization in Ontario called the Prom Blitz, which enables marginalized graduating high school girls to proudly attend their prom with their peers and celebrate their achievements.
During her B.Sc. Honours with a Major in Biomedical Science at the University of Guelph, Kelly gained experience in a diverse array of health improvement fields, including physiotherapy, peer counseling, global health, and research.
While completing her undergraduate degree, Kelly founded Ghana Medical Help, an international charity aimed to alleviate suffering and improve health outcomes in rural Ghana. She then completed a M.Sc. thesis focused on utilizing an innovative technique for large scale monitoring of malaria in Africa.
She is currently working on maximizing the impact Ghana Medical Help can have on sustainably improving the health status of rural West African communities and while completing medical school in Ireland.