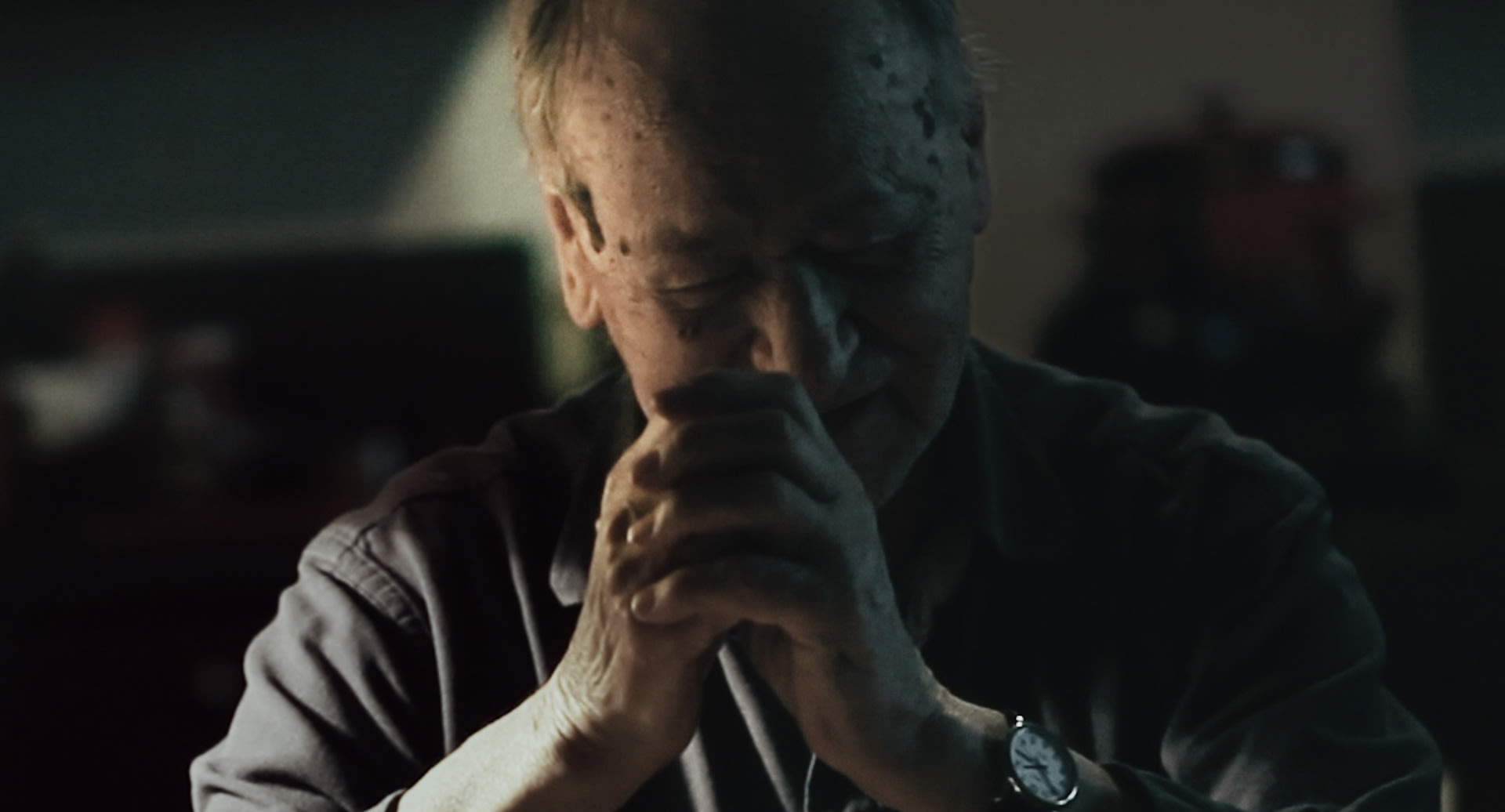 Jonas and I talked about refugees and memory, about ambient noise, poetry, the new film I Had Nowhere To Go, and why he's spent a lifetime ignoring Hollywood.
For more information on I Had Nowhere To Go (IMDB) and TIFF.
Synopsis
Internationally acclaimed multimedia artist Douglas Gordon (24 Hour Psycho, Zidane: A 21st Century Portrait) returns to the Festival with this intimate portrait of avant-garde cinema legend Jonas Mekas.
"An adventurer can always return home; an exile cannot. So I decided that culture would be my home." Jonas Mekas
Internationally acclaimed multimedia artist Douglas Gordon returns to the Festival with an intimate portrait of Jonas Mekas, the legendary poet, film critic, risk-taking curator, "the godfather of the American avant-garde cinema" — and, at 93 years old, among the remaining few to have escaped and survived Nazi persecution.
I Had Nowhere to Go plunges us into both a collective and individual space of memory via long, imageless stretches over which Mekas narrates, in his inimitable voice, excerpts from his memoir (which lends the film its title).
An extraordinary life story emerges as the film zigzags between Mekas' early years in a forced labour camp and a Displaced Person centre during WWII and his arrival in New York as a young Lithuanian émigré. With an immersive sound environment and intermittent, fleeting images that stand in evocative juxtaposition to Mekas' anecdotes, Gordon's film reveals in its subject a puckish humour that outweighs despair, and an unabated zest for life that both illuminates and softens the sadness.
A deeply moving tribute from one great artist to another and a singular work in its own right, I Had Nowhere to Go has timely resonance today as mass migratory movements are displacing millions of people throughout the world as refugees, exiles, and stateless persons. While Mekas is certainly no ordinary person, the story he tells is a profoundly humble one, as much about daily survival as it is about aspiring to accomplish so much more. Gordon, who is ingenious at activating memory and the cinematic imaginary, compellingly presents quotidian moments outside of Mekas' famous film-related activities in order to reveal the desires, impulses, melancholy, and perseverance that inform Mekas' filmmaking and infectious love of cinema.
Even when truly having nowhere to go, Mekas always saw brief glimpses of beauty as he was moving ahead.
Biography
Jonas Mekas – Writer
Jonas Mekas born December 24, 1922, is a Lithuanian-born American filmmaker, writer, and curator who has often been called "the godfather of American avant-garde cinema." His work has been exhibited in museums and festivals across Europe and America. In 1944, Mekas left Lithuania because of war. En route, his train was stopped in Germany and he and his brother, Adolfas Mekas, were imprisoned in a labor camp in Elmshorn, a suburb of Hamburg, for eight months. The brothers escaped and were detained near the Danish border where they hid on a farm for two months until the end of the war. After the war, Mekas lived in displaced person camps in Wiesbaden and Kassel.
From 1946-48, he studied philosophy at the University of Mainz and at the end of 1949, he emigrated with his brother to the U.S., settling in Williamsburg, Brooklyn, New York.
After his arrival, he borrowed the money to buy his first Bolex 16-mm camera and began to record moments of his life. He discovered avant-garde film at venues such as Amos Vogel's pioneering Cinema 16, and he began screening his own films in 1953 at Gallery East on Avenue A and Houston Street, and a Film Forum series at Carl Fisher Auditorium on 57th Street.
In 1954, he became editor of Film Culture, and in 1958, began writing his "Movie Journal" column for The Village Voice. In 1962, he co-founded Film-Makers' Cooperative (FMC) and the Filmmaker's Cinematheque in 1964, which eventually grew into Anthology Film Archives, one of the world's largest and most important repositories of avant-garde films. The films and the voluminous collection of photographs and paper documents (mostly from or about avant garde film makers of the 1950-1980 period) were moved from time to time based on Mekas' ability to raise grant money to pay to house the massive collection.
He was part of the New American Cinema, with, in particular, fellow film-maker Lionel Rogosin. He was heavily involved with artists such as Andy Warhol, Nico, Allen Ginsberg, Yoko Ono, John Lennon, Salvador Dalí, and fellow Lithuanian George Maciunas.
In 1970, Anthology Film Archives opened on 425 Lafayette Street as a film museum, screening space, and a library, with Mekas as its director. Mekas, along with Stan Brakhage, Ken Kelman, Peter Kubelka, James Broughton, and P. Adams Sitney, begin the ambitious Essential Cinema project at Anthology Film Archives to establish a canon of important cinematic works. Mekas' own output ranging from narrative films (Guns of the Trees, 1961) to documentaries (The Brig, 1963) and to "diaries" such as Walden (1969); Lost, Lost, Lost (1975);Reminiscences of a Voyage to Lithuania (1972) and Zefiro torna (1992) have been screened extensively at festivals and museums around the world.
In 2001, he released a five-hour long diary film entitled As I Was Moving Ahead.
Martin Scorsese said once: "Jonas Mekas is the one that gave me the desire and strength to be a director."
Douglas Gordon – Director
Douglas Gordon's practice encompasses video and film, installation, sculpture, photography, and text. Through his work, Gordon investigates human conditions like memory and the passage of time, as well as universal dualities such as life and death, good and evil, right and wrong. Gordon's oeuvre has been exhibited globally and his film works have been presented at many competitions, including the Festival de Cannes, the Toronto International Film Festival, and the International Venice Film Festival. Gordon received the 1996 Turner Prize, the Premio 2000 prize for best young artist at the 1997 Venice Biennale, and the 1998 Hugo Boss Prize.
Most recently, in May 2008 he was awarded the Roswitha Haftmann Prize by the Kunsthaus Zurich and, in 2012 the KätheKollwitz Prize from the Akademie der Künste, Berlin. Gordon was the International Juror at the 65th International Venice Film Festival, and in 2012 he was the Jury president of CinemaXXI at the 7th International Rome Film Festival. In December 2014 Douglas Gordon and pianist Hélène Grimaud have joined forces to explore the beauty of water in an extraordinary performance at Armory on Park, New York.
The collaboration continued when Gordon directed the theatre performance Neck of the Woods starring Charlotte Rampling and Hélène Grimuaud at the 2015 MIF – Manchester International Festival, Manchester. Born in Scotland, Gordon lives and works in Berlin and Glasgow and teaches film at the Städelschule in Frankfurt am Main. He is represented internationally by Gagosian Gallery, as well as Untilthen in Paris, Galerie Eva Presenhuber in Zürich, and Dvir Gallery in Tel Aviv
Podcast: Play in new window | Download