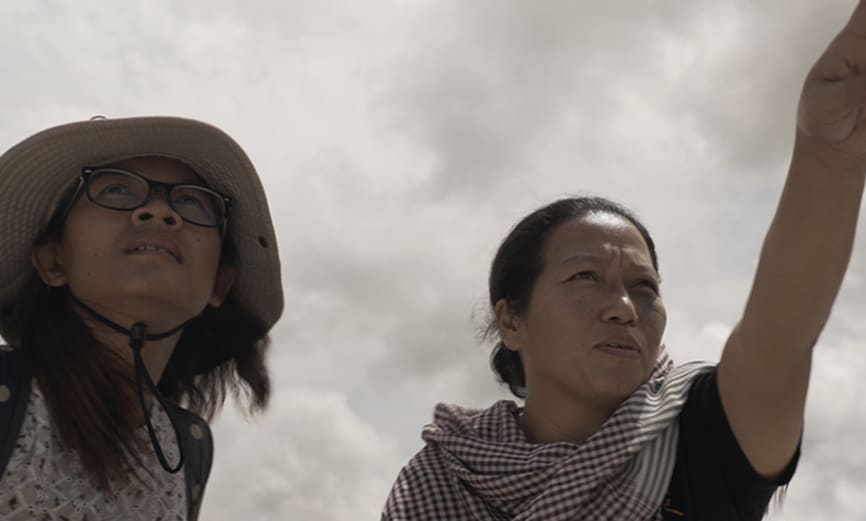 Patima, Shannon, Jeffrey and Jon and Face2Face host David Peck talk about their new film Ghost Fleet, the illegal fishing industry in South East Asia, the environmental implications, slave labor, rights based activism, opportunity and finding your way back home.
Synopsis
Ghost Fleet is a feature-length documentary that pulls back the veil on the seafood industry to reveal striking stories of survival and redemption. Hauntingly beautiful and driven by a strong-willed heroine, Ghost Fleet takes viewers on a sweeping search of remote Indonesian islands looking for escaped men who seek out survival.
Much of the seafood in our daily lives — sushi, frozen fish, shrimp cocktail, and the vast amount that goes into pet food — was caught by slaves. Thailand is one of the world's largest seafood exporters with a huge fishing fleet that needs thousands of fishermen. Decades of overfishing has decimated fish stocks in the region and today the Gulf of Thailand is one of the most barren parts of the ocean. Thai captains now scramble to find crew willing to travel thousands of miles to find fish. Human traffickers have started to fill the labor shortage by selling men from Myanmar, Laos, Cambodia, and other impoverished nations to fishing companies for as little as a few hundred dollars each. Once at sea, these captive men go months, even years, without setting foot on land, earning little to no pay — becoming slaves at sea.
Ghost Fleet follows a small group of activists who risk their lives to find justice and freedom for the enslaved fishermen. Bangkok-based Patima Tungpuchayakul, a Thai abolitionist, has committed her life to helping these "lost" men return home. Facing illness, death threats, corruption, and complacency, Patima's fearless determination for justice inspires her nation and the world.
Biography
Ms. Patima Tungpuchayakul is a Manager at Labour Rights Promotion Network Foundation (LPN). She has emerged as the key person behind attempts to end slavery at sea in South-East Asia. She is also deeply involved with the concerted effort to provide adequate protection for all migrant workers throughout the 10 nations that make up the region. Respected for her courage and determination, Patima's work proved of critical importance when the Labor Rights Promotion Network (LPN) rescued around 2000 captive and stranded fishermen from isolated Indonesian islands in 2014. The Associated Press supported the rescue and won a Pulitzer Prize for its innovative coverage.
Shannon Service, Director and Producer
Shannon Service is an independent reporter and filmmaker whose work has appeared in The New York Times, the BBC and The Guardian of London. She primarily focuses on crimes at sea, but her stories covered everything from the ravages of war to the intimacies of heartbreak. In 2012, she worked with Becky Palmstrom to break the story of slavery on Thai fishing boats for NPR's Morning Edition. Shannon has won several reporting awards, including an Edward R. Murrow, and lives on a houseboat with her pet seagull, Fluffy.
 Jeffrey Waldron, Director and Director of Photography
A graduate of USC's prestigious Cinema-Television Production program, with an MFA from the American Film Institute, Jeffrey earned a 2012 Independent Spirit Award Nomination for Outstanding Cinematography. He has received another ten awards and nominations for his directing and cinematography work in both narrative and documentary films. In 2013 he was nominated for Best Director (Non-Fiction) at the International Academy of Web TV Awards.
Jon Bowermaster, Producer
Writer, filmmaker and adventurer, Jon is a six-time grantee of the National Geographic Expeditions Council. Jon has written a dozen books and produced/directed more than twenty documentary films. 􀀀He is President of Oceans 8 Films and One Ocean Media Foundation, chairman of the advisory board of Adventurers and Scientists for Conservation and a board member of Mark Ruffalo's Water Defense.
Image Copyright: Vulcan Productions. Used with permission.
For more information about David Peck's podcasting, writing and public speaking please visit his site here.
With thanks to producer Josh Snethlage and Mixed Media Sound.