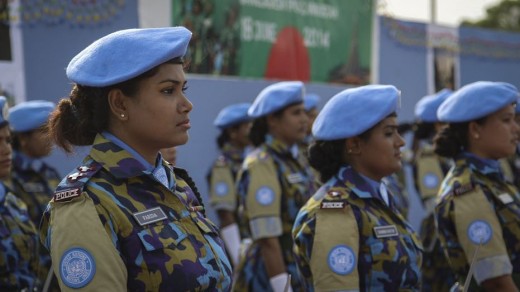 Listen in as Geeta talks about why she wanted to make a "kick ass" story about women, gender justice and how little things make a big difference.
Film Synopsis
Documentarians Sharmeen Obaid-Chinoy (the Academy Award-winning Saving Face) and Geeta Gandbhir follow the stories of three Bangladeshi policewomen who served with the UN peacekeeping mission to Haiti in the aftermath of the devastating 2010 earthquake.
The role of United Nations peacekeepers is a true "mission impossible," dropping soldiers who literally don't speak each other's languages into foreign countries rife with chaos and violence. Anything that goes wrong can become an international incident. Good luck.
A Journey of a Thousand Miles: Peacekeepers acquaints us with the personal side of such a mission, focusing on five Muslim policewomen from Dhaka, Bangladesh who are part of a unit sent to maintain peace in the wake of Haiti's devastating 2010 earthquake. Their training is inadequate, to say the least. Adding to the volatile situation are the local perceptions that the UN has overstayed its welcome, and that foreign troops are responsible for the cholera epidemic that has been killing Haitians by the thousands since the earthquake.
Academy Award winner Sharmeen Obaid-Chinoy (Saving Face) teams with filmmaker Geeta Gandbhir to follow the peacekeeping unit not just over the course of the year-long mission, but also through their return home, where they face fresh challenges of reintegration. Many of the women are the primary earners in their families, but they still encounter opposition from husbands and parents over leaving home for work. As the film takes us deeper into their lives, we come to feel the emotional toll of a risky and gruelling year abroad, away from children and loved ones.
Muslim women are often kept at a distance in the Western media. This film offers a rare and up-close look as they make the best of a difficult situation, with compassion and humour, while the mission expands their sense of what's possible.
Biography
Geeta Gandbhir has been nominated for three Emmy Awards and has won two. Her films have been nominated twice for the Academy Award, winning once, and have also won three Peabody Awards. She most recently co-directed and edited the film "Remembering the Artist Robert DeNiro Senior" for HBO and produced and edited "Whoopi Goldberg Presents Moms Mabley" for HBO, which was just nominated for an Emmy. Additional notable works include; "When the Levees Broke," "By the People: The Election of Barack Obama," "Music By Prudence," "Budrus," "If God Is Willing and Da Creek Don't Rise," and "God is the Bigger Elvis" which was nominated for the 2012 Academy Awards. Recently her film, "Which Way is the Frontline From Here?" with author and Academy Award nominated director Sebastian Junger has been nominated for the News and Doc Emmys.