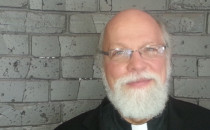 Martin speaks passionately about tacit knowledge, mentorship, the Master/Disciple relationship, the relief found in realizing that we don't have to "prove" everything and why the thought of Michael Polanyi matters.
Biography
Martin is a Jesuit priest and a Professor at Canisius College in Buffalo, New York. He teaches introduction to world religions ("Lose Your Faith 101″) and various topics in Catholic Theology in the Department of Religious Studies and Theology.
He was born in 1952, Allegany, New York, which makes him a "mountain boy." Allegany county and Cattaraugus county are the two northernmost counties of Appalachia, according to the federal government.
He has written Personal Catholicism, published by The Catholic University of America Press, 2000. Michael Polanyi: Scientist and Philosopher, by Oxford University Press, 2005 and Judging Religion Justly: A Catholic Introduction to Religious Studies, published with Cognella University Readers, 2011.