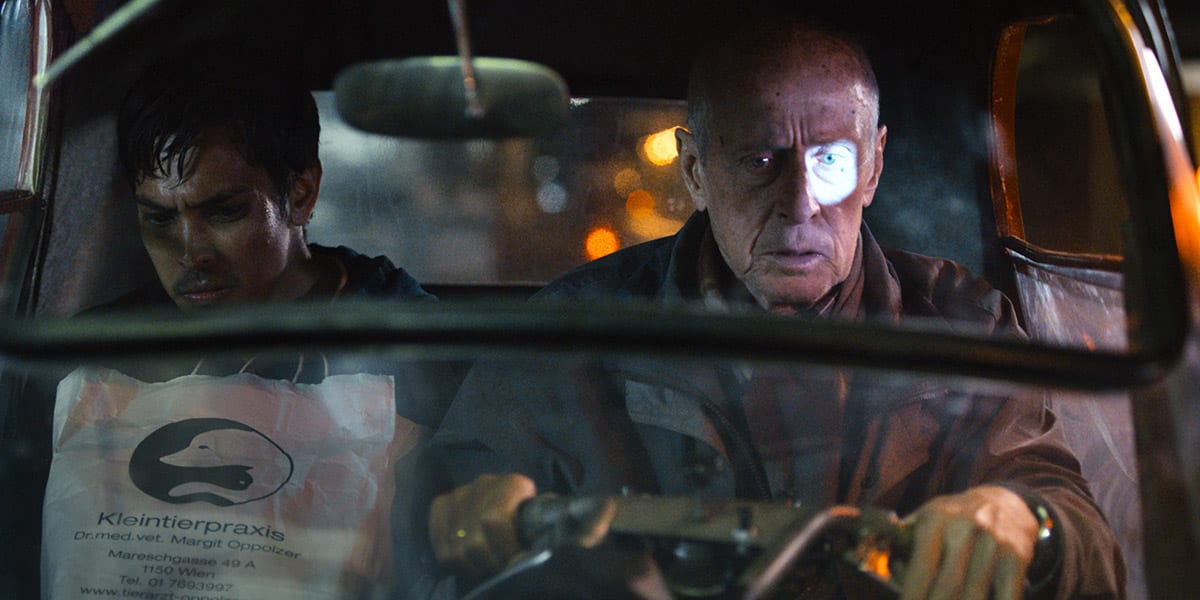 Karl Markovics and Face2Face host David Peck talk about his new film Nobadi, national socialism, guilt, fear and shame, fairytales for grown ups, Ulysses and why freedom scares us.
Synopsis:
Heinrich Senft, a 93 year old, cranky pensioner, lives on a small allotment in Vienna. His dog died during the night and he wants to dig a hole behind his cabin to bury him. But failing to dig it himself he begrudgingly hires a young man from Afghanistan, Adib. While the two struggle to trust each other, Adib finds ways to pacify and appease the angry old man. Senft finds out that Adib has a wound on his foot, which seems rather badly covered up, but Adib pretends that all is well.
When the work is done, Senft seems relieved to have the foreigner out of his back yard. Yet a little while later, when Senft finds Adib unconscious at the bus stop, he knows he will need to help the young man. When Adib regains consciousness, he refuses to go to hospital out of fear to be deported.
Senft decides to take matters into his own hands to save this young man and the two spend a night together that is so full of chance, will-power, and inner revelation, that it sometimes appears hard to believe that these two found each other.
About the Director:
Karl Markovics was born in Austria in 1963. He started his career in Vienna's Serapionstheater and spent 12 years as a freelance actor before landing the role of Stockinger in the TV Series Kommissar Rex in 1993. This brought him to wider public attention and he eventually played the leading role in Stefan Ruzowitzky's Academy Award winning The Counterfeiters in 2008. Breathing, his directorial debut, premiered at Cannes Film Festival at the Directors' Fortnight in 2011, winning the Europa Cinema Label award.
It was screened and awarded at festivals worldwide, including Sarajevo FF (Best Film, Best Actor), and Sao Paolo IFF (Best Film). Superwelt followed in 2014 and screened at Berlinale, Karlovy Vary IFF and New Horizons FF Poland amongst others.
Nobadi is Karl Markovics' third film as a director.
Image Copyright: EPO-Film Vienna and Karl Markovics. Used with permission.
F2F Music and Image Copyright: David Peck and Face2Face. Used with permission.
For more information about David Peck's podcasting, writing and public speaking please visit his site here.
With thanks to Josh Snethlage and Mixed Media Sound.