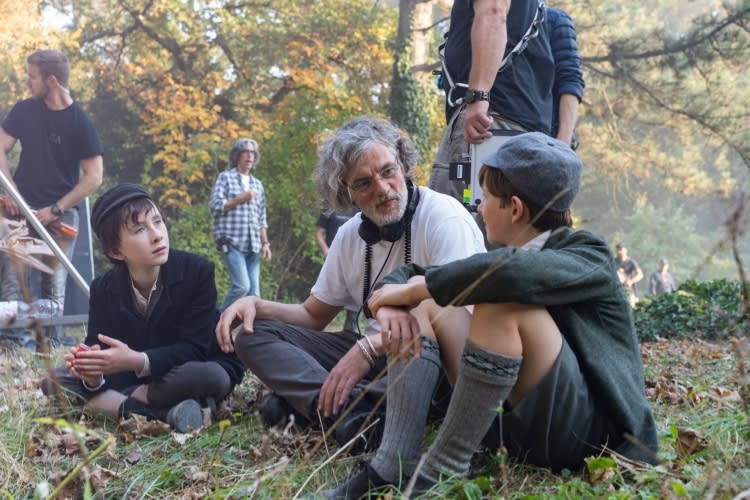 François Girard and Face2Face host David Peck talk about his new film The Song of Names, history, remembrance, choices, mystery and discovery, film as music, the paradox of technology and musical, archeological digs.
Synopsis:
Martin Simmonds (Tim Roth) has been haunted throughout his life by the mysterious disappearance of his "brother" and extraordinary best friend, a Polish Jewish virtuoso violinist, Dovidl Rapaport, who vanished shortly before the 1951 London debut concert that would have launched his brilliant career. Thirty-five years later, Martin discovers that Dovidl (Clive Owen) may still be alive, and sets out on an obsessive intercontinental search to find him and learn why he left.
Shortly before World War II, Martin's music publisher father, Gilbert (Stanley Townsend), invites young Dovidl Rapoport (Luke Doyle), a ten-year-old Jewish violin prodigy from Poland, to live in their London home. Gilbert's intent is to help the boy achieve his musical potential and protect him from the imminent German invasion of Poland. Martin (Misha Handley), also ten, initially sees Dovidl as an invader in his house, but Dovidl's worries about the plight of his family in Warsaw elicits Martin's compassion, and he is won over by the young genius's charisma and rebelliousness.
Soon they are as close as brothers. Having the extraordinary Dovidl as his best friend and confidante opens up Martin's narrow world, and enhances his selfconfidence. Over several years as the boys grow up, Gilbert lavishes all his attention and the money he has on developing Dovidl's (now Jonah Hauer-King) talent, a process that elicits jealousy from Martin (now Gerran Howell), despite his love for Dovidl. Eventually, Gilbert stages an extravagant London debut for Dovidl at age 21. Unfortunately, as the audience and orchestra await Dovidl's arrival on stage, Dovidl fails to appear.
The cancellation of the concert bankrupts and devastates Gilbert, who dies soon after. It also leaves Martin with the loss of the "brother" he loved, the lingering question of what happened, and a growing bitterness over Dovidl's responsibility for Martin's father's death. Almost four decades later, Martin follows the clues that lead him ever closer to his friend, until he learns the meaning of 'The Song of Names,' a profoundly moving piece of music that holds the answer to why his brother vanished so suddenly from his life.
About the Director:
François Girard gained notoriety as much for his filmmaking as for his staging of operas and theater plays. In 1993, his feature film Thirty Two Short Films About Glenn Gould would go on to garner international success including four top Genie Awards. Five years later he directed The Red Violin, featuring Samuel L. Jackson, which received an Academy Award for best original score and enshrined Girard as an important player on the international movie scene. The film also won eight Genie Awards and nine Jutra Awards. Silk, which he later directed, was adapted from Alessandro Baricco's best-selling book, and was released worldwide in 2007. The cast includes Michael Pitt, Keira Knightley, Alfred Molina, Miki Nakatani and Koji Yakusho.
SILK received four Jutra Awards. His film Boychoir, released in 2015, features Dustin Hoffman, Kathy Bates and Eddie Izzard among others. Most recently, Hochelaga, Land of Souls, was presented at the Toronto Film Festival, and represented Canada in the race for Best Foreign Language Film Oscar at the 90th Academy Awards. It was released in September 2017 and was greatly acclaimed by the Academy of Canadian Cinema & Television. Girard's 1994 concert film Peter Gabriel's Secret World, became a best-selling film and earned him a Grammy Award. A few years later he directed one of the six episodes of the internationally acclaimed series 'Yo-Yo Ma Inspired By Bach.'
In 1997, François Girard made his opera directorial debut with Oedipus Rex/Symphony of Psalms by Stravinsky and Cocteau, which received numerous awards and was named by The Guardian as 'the best theatrical show of the year.' His other opera works include Lost Objects, for the Brooklyn Academy of Music; Wagner's Siegfried; The Flight of Lindbergh/Seven Deadly Sins by Kurt Weill and Bertolt Brecht; as well as Kaija Saariaho's Émilie. In recent years, Cirque du Soleil's commissioned Girard to write and direct Zed, their first permanent show in Tokyo; and Zarkana, which opened at Radio City Music Hall, played at the Kremlin Theatre and has become a resident show in Las Vegas.
To date, François Girard's accomplishments have earned him over one hundred international awards and public acclaim the world over.
Image Copyright: Serendipity Point Films and François Girard. Used with permission.
F2F Music and Image Copyright: David Peck and Face2Face. Used with permission.
For more information about David Peck's podcasting, writing and public speaking please visit his site here.
With thanks to Josh Snethlage and Mixed Media Sound.