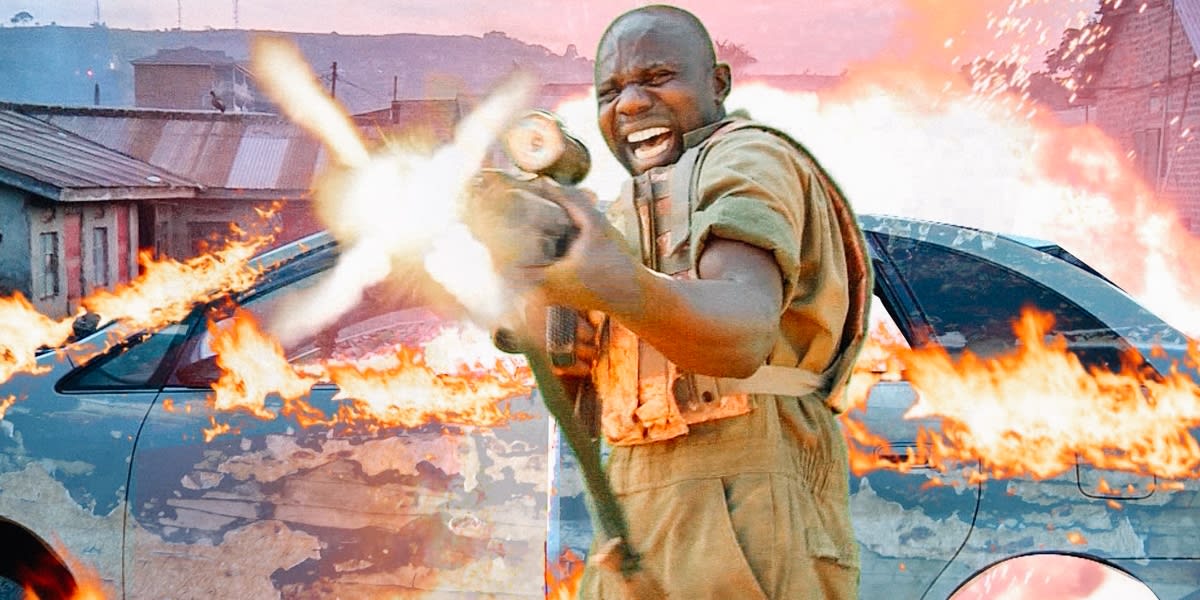 IGG Nabwana, VJ Emmie and Alan Ssali Hofmanis talk about their new film Crazy World, African storytelling, action films, traditions and taking chances and the super success of the Ugandan Wakaliwood.
Synopsis:
In the latest from Uganda's gonzo action auteur IGG Nabwana, a gang of child-snatching mobsters make a fatal mistake when they kidnap the Waka Stars, a team of pint-sized kung-fu masters who soon turn their cunning wits and deadly skills upon their captors.
For the past decade, IGG Nabwana and his crack team of fearless filmmakers and martial artists in the slums of Kampala, Uganda, have steadily produced dozens of exhilarating gonzo action films as part of an inspiring creative movement known as Wakaliwood. With their meagre resources buoyed by an exuberant ingenuity, these self-consciously scrappy epics chronicle domestic scandals and adversities ripped straight from the local headlines with brash exploitation-filmmaking gusto.
Conceived by Nabwana as a pre-emptive measure to discourage the kidnapping of his own children (seriously), Crazy World opens with the notorious Tiger Mafia (a frequent Wakaliwood antagonist) embarking on a child-abduction spree. Intending to sacrifice children in a misguided belief that their blood contains magical properties, the criminals make a crucial mistake when they snatch the WAKA STARS, Uganda's pint-sized kung-fu masters. Before long, these badass brats start applying their martial-arts prowess and cunning wits to escape their captors, while their desperate parents commence a rescue/revenge mission of their own.
Crazy World is the third Wakaliwood feature to be translated for an international release following Who Killed Captain Alex? and Bad Black, both of which earned accolades and awards at international film festivals around the globe. Per a Ugandan oral tradition, every outrageous moment is both contextualized and accentuated by the acerbic wit of an offscreen narrator or "video joker," who at one point exclaims: "BEST KIDZ MOVIE EVAH!" He is not wrong. Welcome to Wakaliwood.
About our Guests:
IGG Nabwana was born in Kampala, Uganda. Since 2005, he has directed nearly 50 feature films, including Who Killed Captain Alex? (10), Rescue Team (11), Bukunja Tekunja Mitti: The Cannibals (12), The Revenge (15), and Bad Black (16). Crazy World (19) is the first of his films to screen at the Festival.
VJ Emmie (Video Joker) is Part Narrator, part Cheerleader, a Video Joker is a unique Ugandan style of storytelling where a  translate a movie live before an audience, when normal subtitles are not possible for technical reasons or illiteracy.  It is an extremely popular art form within Uganda and VJ Emmie is easily the most famous with over 5000 titles to his name and a career spanning 10 years, starting with Who Killed Captain Alex: Uganda's First Action Movie.
The World Premiere of Wakaliwood's Crazy World at TIFF will be the first live VJ performance outside Uganda, and the first time VJ Emmie has traveled outside Uganda.
Neither he nor filmmaker Nabwan IGG have ever been to a movie theatre.
Alan Ssali Hofmanis is the co-producer and a festival program director in a previous life, Alan Ssali Hofmanis sold everything he had in NY and moved into the Ugandan village of Wakailga with Nabwana IGG and his team to help produce, translate, and share these films with the world. He is also a bonafide Ugandan action move star, starring in Wakaliwood's previous hit film, Bad Black, winner of the Audience Award at Fantastc Fest in Austin, TX.
Image Copyright: IGG Nabwana and Wakaliwood. Used with permission.
F2F Music and Image Copyright: David Peck and Face2Face. Used with permission.
For more information about David Peck's podcasting, writing and public speaking please visit his site here.
With thanks to Josh Snethlage and Mixed Media Sound.