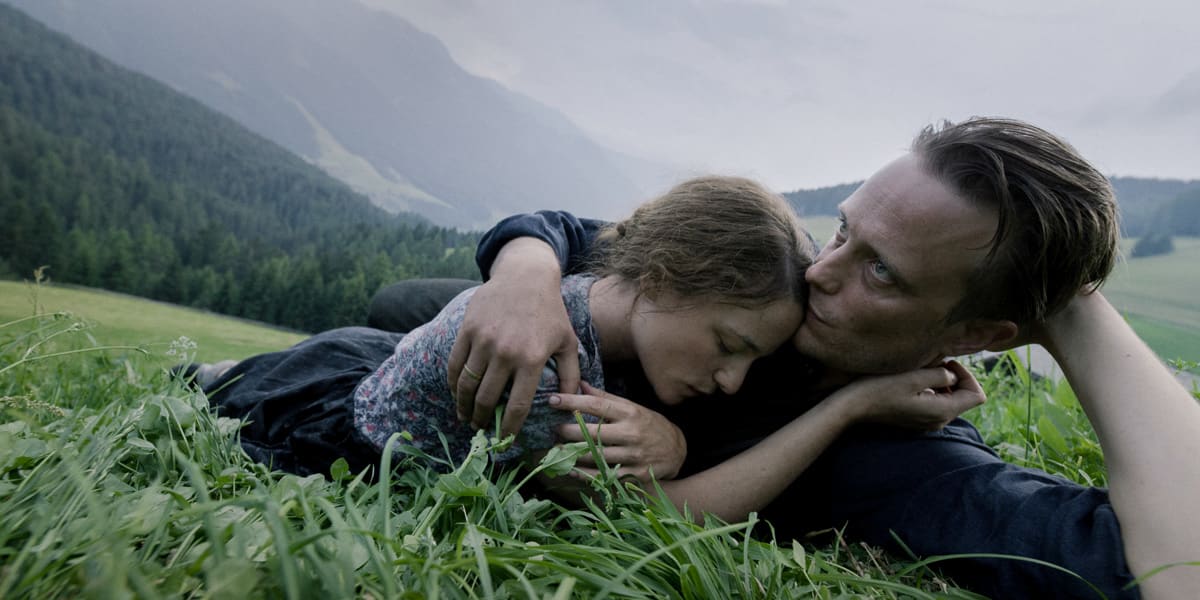 August Diehl and Valerie Pachner and Face2Face host David Peck talk about Terence Malik's new film A Hidden Life, true love, pacifism and evil, truth and justice, taking an ethical stance and standing up to power.
Synopsis:
"..for the growing good of the world is partly dependent on unhistoric acts; and that things are not so ill with you and me as they might have been, is half owing to the number who lived faithfully a hidden life, and rest in unvisited tombs."
George Eliot
A Hidden Life is based on the true story of Franz Jägerstätter, an Austrian peasant farmer who refused to take the oath of allegiance to Hitler during World War II, sacrificing everything, including his life, rather than to fight for the Nazis.
When Franz is called up to basic training, a requirement for all Austrian men, he is away from his beloved wife and children for months. Eventually, when France surrenders and it seems the war might end soon, he is sent back home. His mother and sister-in-law Resie come to live with them, and for a while things seem to go on as normal.
Instead of retreating, the war escalates, and Franz and the other men in the village are called up to fight. The first requirement of a new soldier is to swear an oath of allegiance to Adolf Hitler and the Third Reich. Despite pleas from his neighbors, fellow soldiers and commanding officers, Franz refuses the oath—objecting to Hitler and the Nazi regime. With a sense of personal responsibility and the inability to do what he believes is wrong, Franz refuses.
After months of incarceration, the case goes to trial. Franz is found guilty and sentenced to death. Franz continues to stand up for his beliefs and is executed by the Third Reich in August 1943. His wife and three daughters survive.
The relationship, however, between Franz and his wife Fani endures. The film portrays their bond as deeply as Franz's devotion to his cause. At every turn Fani is there for Franz – strong, unfaltering and supportive of his path while raising their daughters and running the farm alone, eventually with help from her mother-in-law and sister.
Terence Malik's film draws on actual letters exchanged between Franz and Fani while Jägerstätter was in prison. The collection was edited by Erna Putz and published in English by Orbis Books. Some lines have been added to the letters, and sometimes the letters are paraphrased.
The story was little known outside of St. Radegund, and might never have been discovered, were it not for the research of Gordon Zahn, an American who visited the village in the 1970s.
About the Cast:
August Diehl made his debut in 23, which garnered him a Bavarian Film Award for Best Young Actor and a German Film Award for Best Actor. Best known for his role in the Academy Award-Winning The Counterfeiters and Inglorious Bastards Diehl's additional credits include The Ninth Day, Slumming and If Not Us, Who.
Valerie Pachner was Born in Wels, Upper Austria, and trained at the famous Max Reinhardt Seminar in Vienna. She moved to Munich after completing her studies. In 2013 she became part of the permanent ensemble at the Residenztheater.
In addition to her stage work, Pachner also took on movie roles, among them Egon Schiele: Death and The Maiden, a part for which she was awarded the Austrian Film Prize. Pachner played the lead in The Ground Beneath My Feet which received its world premiere at the Berlin International Film Festival in 2019.
Image Copyright: Elizabeth Bay Productions Productions. Used with permission.
F2F Music and Image Copyright: David Peck and Face2Face. Used with permission.
For more information about David Peck's podcasting, writing and public speaking please visit his site here.
With thanks to Josh Snethlage and Mixed Media Sound.