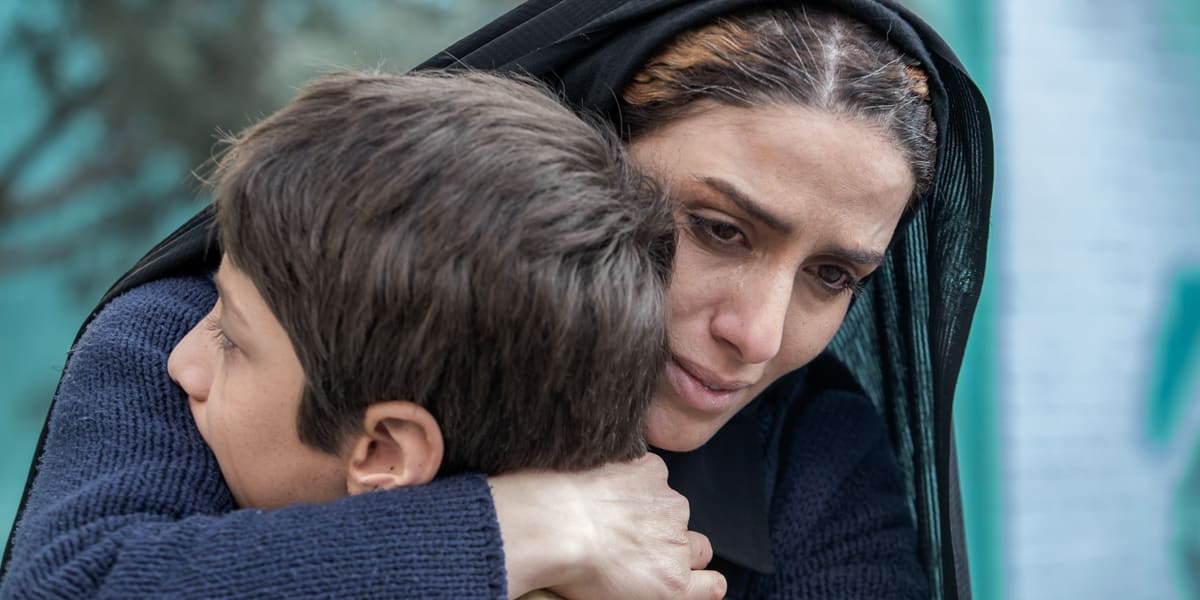 Mahnaz Mohammadi, Farzad Pak and Face2Face host David Peck talk about their new film Son/Mother, activism, family, choices and women's rights, tradition, values and storytelling, patriarchy, empathy and how things do change bit by bit, over time.
Synopsis:
Leila is a single working mom of two. The factory she works at faces a crisis and jobs are at stake. Kazem, the factory bus driver, proposes marriage to Leila, but she hesitates to accept his conditions. Kazem has a daughter the same age as her 12-year-old son, Amir, and since tradition frowns upon a young girl sharing a household with her step-brother, Kazem tells Leila not to bring her son until he marries his daughter off.
After Leila is fired from her job, she makes the decision to stay with Kazem and leave Amir at a boarding school for deaf children, while she tries to manage his return. There, Amir is forced to pretend he's deaf-and-dumb, and after a few months tries to run away to search for his mother. On the run, he faces Kazem who asks him to think about his family's future. Amir has to decide.
About the Directors:
Well-known for her provocative documentaries on social issues as well as her tireless activism, Iranian director Mahnaz Mohammadi has made headlines in the likes of The Guardian, the Hollywood Reporter or Variety, and has been supported by Amnesty International and the French Directors Guild (Société des réalisateurs de films) among others.
Mohammadi wrote and directed her first short documentary, Women without Shadows, in 2003. She instantly received praise at international film festivals for her depiction of homeless and abandoned women in a state-run shelter, and continued documenting everyday lives and struggles of people in her next couple of films.
The award-winning feature documentary Travelogue was shot on a train going from Tehran to Ankara, where Mohammadi questioned passengers about the reasons why they decided to flee the country. The film premiered in 2010 at the 'A Day in Tehran' event in Paris, with the director in attendance, which became one of the reasons for Iranian authorities to ban Mohammadi from leaving the country and from producing any more films.
The avid women's rights activist also contributed to Rakhshan Bani-Etemad's documentary We Are Half the Iran's Population, which portrayed the demands of Iranian women in the 2009 presidential election. At the time, Mohammadi was already considered a public enemy, her passport was withheld by the court, and her home was searched. The authorities also confiscated her work and filming equipment along with other personal belongings, while banning her from working as a filmmaker. Several of her films have been banned in Iran. In 2011, she starred in Reza Serkanian's drama The Momentary Marriage and was invited to the 64th Cannes Film Festival, but was not allowed to attend. Greek-French filmmaker Costa-Gavras read a letter she sent, including the famous words: "I am a woman, I am a filmmaker, two sufficient grounds to be guilty in this country." In June, she was arrested and jailed in Tehran's infamous Evin Prison. A month later, she was released on bail.
Farzad Park is the producer, long-time member of the Association of Independent Iranian Producers, and head of the Filminiran production company.
During his 20-year career in documentary and fi lm, he has worked in both Iranian and international productions spanning from Joanna Lumley's silk road documentary to Costanza Quatriglio's war drama Just Like My Son (Sembra mio fi glio), which was released in 2018 as an Italian, Croatian, and Belgian co-production.
Image Copyright: Farzad Park and Europe Media Nest. Used with permission.
F2F Music and Image Copyright: David Peck and Face2Face. Used with permission.
For more information about David Peck's podcasting, writing and public speaking please visit his site here.
With thanks to Josh Snethlage and Mixed Media Sound.