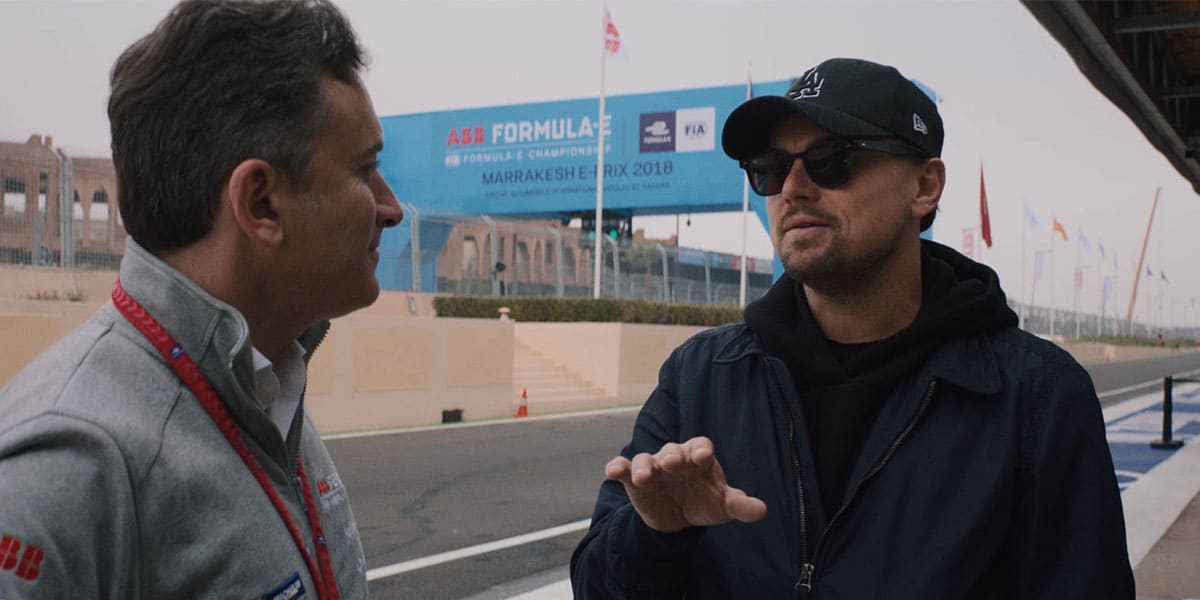 Fisher Stevens and Malcolm Venville and Face2Face host David Peck talk about their new film And We Go Green, the environment, Climate Change, eco-capitalists, Electric Cars, Formula E and social innovation.
Synopsis:
Formula E, the groundbreaking electric car racing series, has grown from upstart championship to the world's fastest growing sport in 4 short years. Through its pulsating and unpredictable racing spectacle featuring the most skillful drivers and most advanced car manufacturers, Formula E is exciting millions about the potential of electric performance in order to combat climate change and air pollution in our cities.
With unprecedented access, And We Go Green is the human story of the live wires, underdogs and visionaries who have made this sport such a success and are reinventing racing for the next generation of motorsport fans.
Directed by Fisher Stevens and Malcolm Venville and produced by Leonardo DiCaprio, this highly cinematic documentary uses intimate character-driven storylines, behind-the-scenes vérité, and thrilling race footage to thrust you into the drama of a climatic 2018/19 championship and leave you in the driving seat in a race against the clock for a cleaner future.
About the Directors:
Fisher Stevens has been in the entertainment business for over 30 years. He directed The Confidence Man, "for Netflix original series Dirty Money, and, with Leonardo DiCaprio, National Geographic's Before the Flood, winner of the Hollywood Film Award. He co-directed two-time Emmy-nominated Bright Lights: Starring Carrie Fisher and Debbie Reynolds for HBO, and directed three-time Emmy-nominated Netflix original film Mission Blue. He co-directed Independent Spirit Award-winning Crazy Love.
Stevens also produced Academy Award-winning documentary The Cove, and follow-up film, Racing Extinction for Discovery, nominated for an Academy Award for best song. He produced Emmy-nominated film Woody Allen: A Documentary for American Masters, SXSW Grand Jury Award-winner Beware of Mr. Baker, and 2016 Sundance opening-night documentary, Sky Ladder: The Art of Cai Guo-Qiang for Netflix. Stevens directed Paramount Classic's feature film Just a Kiss, starring Marisa Tomei, Kyra Sedgwick and Taye Diggs. He produced films including five-time Academy Award-nominated drama In the Bedroom, A Prairie Home Companion, Piñero, Swimfan, and Uptown Girls. Stevens directed feature film Stand Up Guys for Lionsgate starring Al Pacino, Christopher Walken and Alan Arkin. He also directed John Leguizamo's Ghetto Klown, on Broadway, which he later adapted and directed for an HBO special.
As an actor, Stevens appears in numerous television shows and movies, including The Blacklist, The Good Fight, the Cohen Brothers' Hail, Caesar! and Wes Anderson's Isle of Dogs.
Malcolm Venville is a performance driven visual storyteller whose projects span the mediums of film, television, commercials and documentaries.
His advertising campaigns include Apple, Volkswagen, Nike, Porsche and Google. Notable commercials Apple iPad Air Pencil, Google's New Baby, and Squarespace's debut Super Bowl spot.
More recently, he gave an introduction to the workers at Jack Daniel's in the spot From the Maker's Of. Venville made his feature film debut with the dark comedy 44 Inch Chest starring Ray Winstone, Ian McShane, John Hurt, and Tom Wilkinson.
His next film, Henry's Crime, featured Keanu Reeves, Vera Farmiga, and James Caan. His work also includes the documentary shorts Portrait of a Dancer and Philophiles.
He has published three works of photography: The Women of Casa X, Lucha Loco, a collection of more than 100 portraits of Mexican wrestlers; and Layers, a monograph of his work as an art and advertising photographer.
Venville has most recently been working on a feature length documentary about Formula E "And We Go Green", the electric car racing formula and a limited series for A&E on the life of United States President, Civil War hero, and abolitionist, Ulysses S. Grant.
Image Copyright: Appian Way and Bloomfish Productions. Used with permission.
F2F Music and Image Copyright: David Peck and Face2Face. Used with permission.
For more information about David Peck's podcasting, writing and public speaking please visit his site here.
With thanks to Josh Snethlage and Mixed Media Sound.