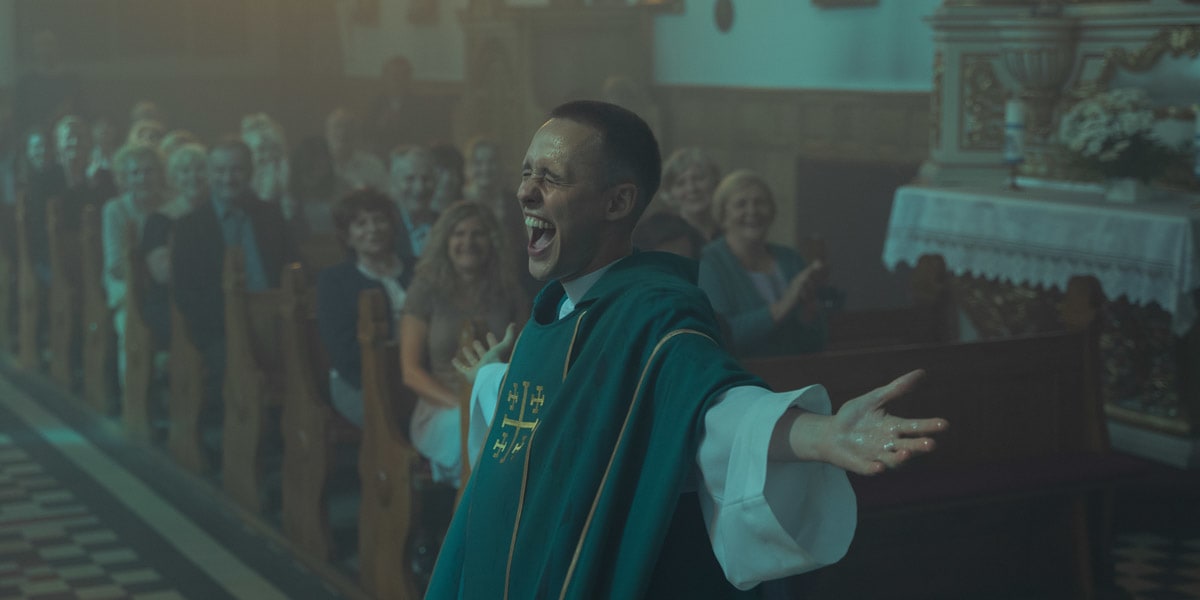 Jan Komasa and Face2Face host David Peck talk about his new film Corpus Christi, redemption and the power of communities to reconcile and restore, the Polish Bible Belt, shame, guilt and forgiveness and healing through others.
"Komasa directs with an impressive rigor that fits the subject matter, and the incorporation of subtle ecclesiastical embellishments in the score adds to the imposing solemnity. The smoldering center of it all is Bielenia's remarkable performance."
The Hollywood Reporter
Synopsis:
Recently released from a youth detention facility, a young man hiding from his past poses as a priest in a small Polish town, where the healing he provides may not be enough to resolve his own test of faith. When the whole world is at odds and all seems lost, what is left? Corpus Christi is the story of 20-year-old Daniel (Bartosz Bielenia, a major talent on the rise), who, after serving a sentence in a youth detention centre for a violent crime, must face his inner demons while searching for redemption.
Running from the troubles that haunt him and hiding from his past by posing as a priest in a small Polish town, Daniel is, clandestinely, given the chance for spiritual transformation. Meanwhile, the arrival of this charismatic young preacher provides an opportunity for his divided flock to begin healing after a polarizing tragedy. But not everyone is capable of forgiveness or deliverance, and following the road to salvation can also lead one astray.
As his past sins catch up to his already heavy and burdened conscience, Daniel's intentions are murky and the haven of religion may prove to be more than just a spiritual escape. Set in a country with increasingly blurred lines between church and state, Corpus Christi calls dogma and prostrating into question as Daniel's real test of faith ultimately presents itself at a moment when he's not at the altar.
With thanks to Dorota Lech from TIFF
About the Director:
Jan Komasa is a Polish film director, screenwriter, and producer best known for directing the films Suicide Room and Warsaw 44. His films were premiered or won awards at Cannes Film Festival Berlin Film Festival, Venice Film Festival and Toronto International Film Festival.
Komasa was born in Poznan, Greater Poland. His father, Wieslaw Komasa, is an acclaimed theater actor and professor at National Academy of Dramatic Art in Warsaw. His mother, Gina Komasa, is a singer, music producer, music supervisor. She was a Director of Entertainment Department at Polish Television and a director of festivals: Sopot International Song Festival, National Festival of Polish Song in Opole. His brother, Szymon Komasa, is a bass-baritone singer, graduate of Jiulliard School in New York and Guildhall School of Music in London. He has two sisters: Maria Komasa-Łazarkiewicz is a singer, composer and wife of a composer Antoni Komasa-Łazarkiewicz. Zofia Komasa is a costume designer.
Komasa clearly come from a talented family of artists and was raised in Warsaw, where they moved in 1988. He attended Stanislaw Moniuszko Primary Music School. He, along with his siblings, was a child actor in television shows, programmes and movies due to his mother professional engagement at Polish Television.
In 1993 his father played a part in Schindler's List. Watching the film crew work and meeting Steven Spielberg made him consider film directing as his future profession.
He graduated from National Film School in Łódz and currently teaches at the Theatre Academy in Warsaw and his new film Suicide Room: The Hater is to be premiered in 2020.
Image Copyright: Aurum Film and Jan Komasa. Used with permission.
F2F Music and Image Copyright: David Peck and Face2Face. Used with permission.
For more information about David Peck's podcasting, writing and public speaking please visit his site here.
With thanks to Josh Snethlage and Mixed Media Sound.