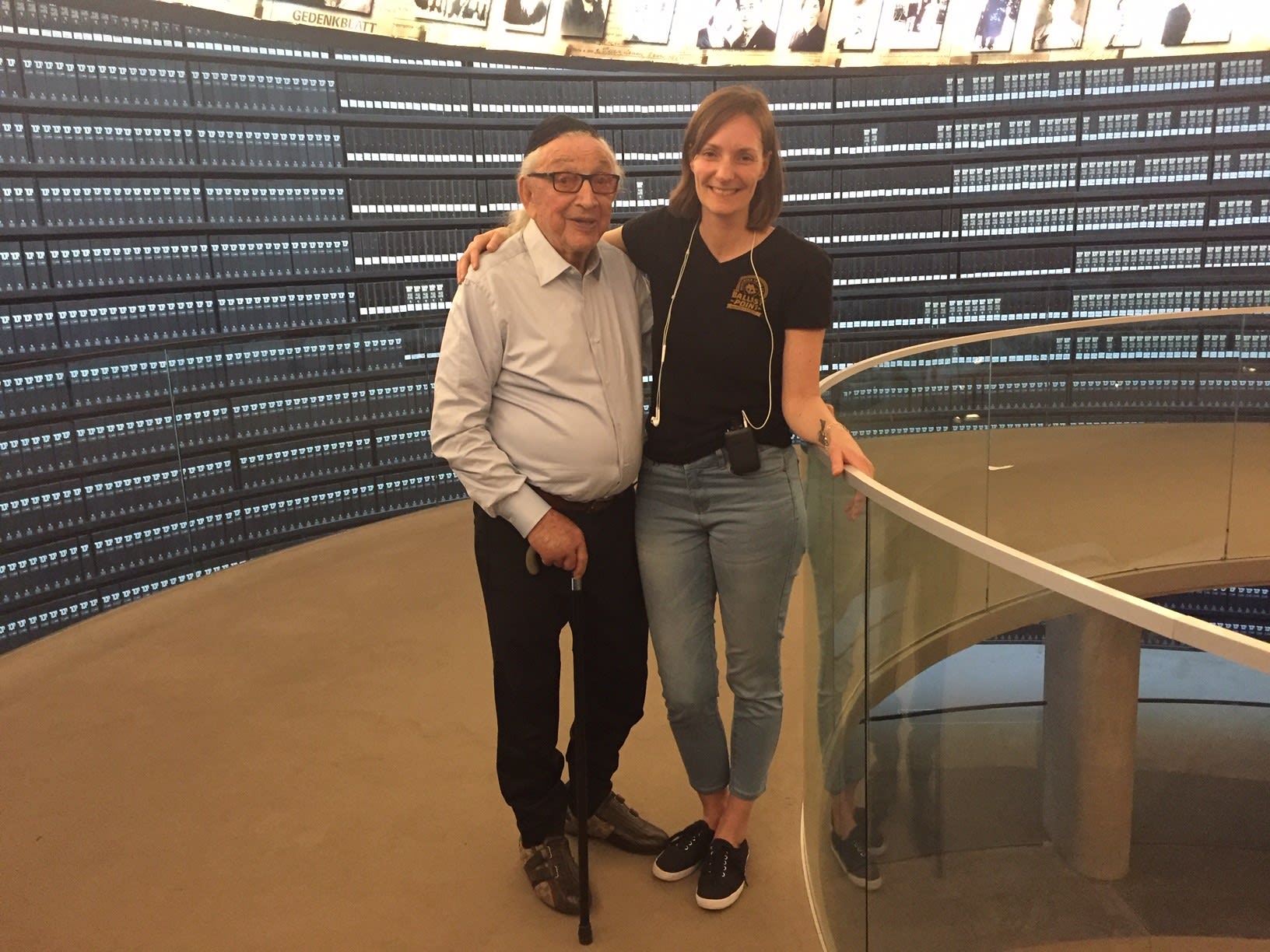 Rebecca Snow and Steve Gamestar and Face2Face host David Peck talk about their new film Cheating Hitler: Surviving The Holocaust, survivors guilt, meaningful history and the power of memory, pivotal moments in personal stories and why we never should forget.
You can watch the film here.
Synopsis:
Rose, Maxwell and Helen were 10, 9 and 7 years old when the Second World War began. Robbed of their childhood, they were old before they were young.
They endured the terror of forced labour, killing squads and concentration camps. After the war, they discovered their families had been decimated, that their homes were reduced to rubble, and their possessions lost or stolen. Now, 75 years after the war ended, these three survivors are looking for answers to deeply personal questions they've carried with them their entire lives.
Cheating Hitler is a modern-day investigation into lingering mysteries from the Holocaust. Three survivors and family members travel to Poland, Ukraine, and Lithuania exploring some of the hidden and rarely visited sites where the Holocaust occurred. They consult with historians, genealogists and forensic experts and uncover new life-changing information.
Children have always been central to the story of the Holocaust. The most recognized victim, Anne Frank, was a child. And yet, for decades, the testimony of most child survivors was overlooked. Some felt overshadowed by the experiences of their elders, too traumatized to share their memories, or felt guilt for surviving and living long lives.
This film focuses entirely on the unique experiences of children survivors, now in their final years, and often telling stories and revealing secrets on camera for the first time. Their testimony provides a powerful warning from history and a last chance to solve lingering mysteries.
Cheating Hitler is about one of the darkest chapters of human history, but what shines through are stories of resilience, bravery and survival.
About the Guests:
Rebecca Snow is an award winning director, writer and producer specializing in history and social issue documentaries. Rebecca won the 2018 Canadian Screen Award for Best Direction in a Documentary Program for Real Vikings: Viking Women. Her early career was spent in the UK working on BBC's The Battle for North America, Simon Schama's Power of Art and the dramatized series Rome: The Rise and Fall of an Empire.
Her writing/directing broadcast credits include CBC's Nature of Things, NBC's Who Do You Think You Are?  And for History Channel; Museum Secrets, Perfect Storms, Battle Castle and Mummies Alive. She also co-produced Hunting Nazi Treasure.
In 2018 Rebecca created, produced and directed the online documentary series The Better is Possible Project. Intimate and inspiring mini-documentaries about six very different people facing their own personal struggles and how they are using their experiences to fuel change. A number of the shorts are currently playing festivals worldwide.
Her first feature documentary Period: a film about menstrual equity is scheduled for release in 2019.
Steve Gamester is a founding partner of Saloon Media. He has worked as a Development Executive, Broadcaster, Executive Producer, Producer and Series Show Runner for clients in Canada, the United States, the UK and Germany.
He is currently producing two feature-length documentaries, the first about the impact of 9/11 on American society, and the second about children survivors of the Holocaust. Both are due for release in late 2019. In 2016-17 he developed and produced Hunting Nazi Treasure (8 x 60), a Canada-UK co-production for History Canada, Channel 4 UK and AHC in the US. The series travelled to 13 countries on 4 continents to investigate the Nazi looting of cultural objects during the Second World War. In 2016 he developed and produced the 1 x 60 special Auction House for History Canada.
In 2015 he produced Mummies Alive, a six-part UK-Canada co-production for Smithsonian Channel US, UKTV, History Canada and ZDF. In 2013-14, he produced Miracles Decoded, for AETN International. In 2012-13 he developed and produced Perfect Storms: Disasters that Changed the World, for History Canada, Smithsonian US, UKTV. In 2011, he co-produced the feature one-off documentary The Great Escape: Secrets Revealed for Channel 4 in the UK and History in Canada.
Prior to joining eOne he developed and was the Series Producer of Museum Secrets, a returning series that broadcasts on History in Canada, Smithsonian in the USA, Yesterday in the UK, and is distributed by BBC Worldwide.
Steve's productions have been nominated for over twenty Canadian Screen Awards.
From 2005 to 2009, Steve was a Production Executive of Original Programming at Canwest and Alliance Atlantis and oversaw more than 300 hours of programming for History, National Geographic, Showcase, and Global Television.
Steve has a Masters in Public History from the University of Waterloo and an Honors BA in History from Huron College.
Image Copyright: Saloon Media, Steve Gamestar and Rebecca Snow. Used with permission.
F2F Music and Image Copyright: David Peck and Face2Face. Used with permission.
For more information about David Peck's podcasting, writing and public speaking please visit his site here.
With thanks to Josh Snethlage and Mixed Media Sound.