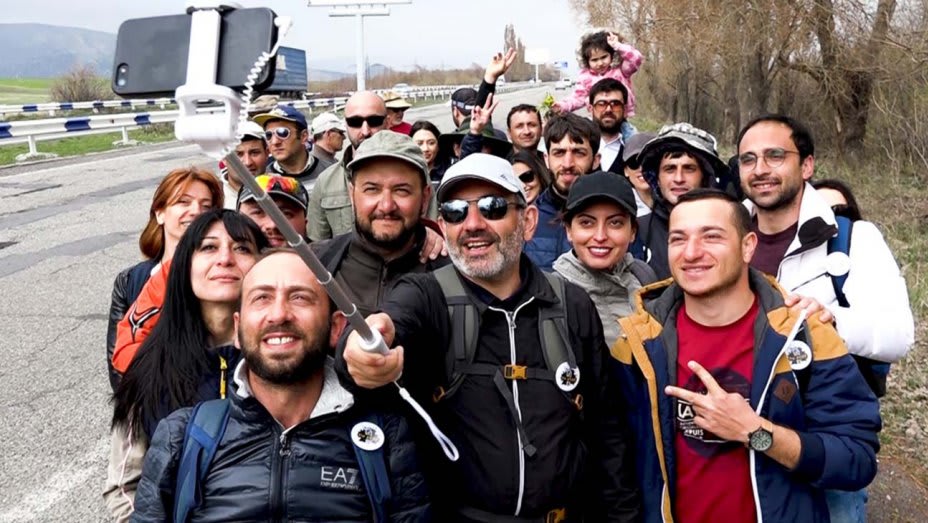 Garin Hovannisian, Serj Tankian and Face2Face host David Peck talk about their new film I Am Not Alone, politics and protest, Armenia and the Velvet Revolution, citizen protests, activism, advocacy pessimism and hope.
Synopsis:
On Easter 2018, a man put on a backpack and went live on Facebook to announce that he was beginning a walk across Armenia. His mission: to inspire a velvet revolution — and topple the corrupt regime that enjoys absolute power in his post-soviet nation. With total access to all key players, I AM NOT ALONE tells the miraculous true story of what happens in the next 40 days.
Garin Hovannisian's gripping documentary deftly follows the efforts led by journalist, politician, and activist Nikol Pashinyan to prevent the election of the country's president, Serzh Sargsyan, as the new prime minister — a move that would essentially put Sargsyan in control of Armenia for life, making him a de facto dictator.
The movement begins hopelessly, with Nikol and just a handful of supporters — including a stray dog — setting out on a 14-day march from one side of the country to the capital Yerevan. As they clash against the regime, there are many moments when their efforts seem doomed to fail, like every democratic movement in Armenia before them. But this time something is different. Step by step, the marchers begin to capture the hearts and minds of the Armenian public. Within a few weeks, the country erupts in a spectacular revolution, as millions of citizens take to the streets, disperse across their neighborhoods, and stage some of the most creative, powerful, and surprising acts of civil disobedience in modern history.
This incredible political drama presents an emotional and inspiring roadmap for how a true democratic movement can achieve profound change against all odds. It is packed with rich and memorable characters, plot twists, and a true hero's journey.
About the Guests:
Garin Hovannisian has been an active participant in Armenia's struggle for freedom, and has written about it for The Atlantic, The New York Times, and in his memoir Family of Shadows. He is the co-writer/director of the feature film 1915 (2015), a psychological mystery set 100 years after the Armenian Genocide, and praised by the Los Angeles Times as a "a high-minded version of Birdman…a creative way to do justice to such a monumental topic." He splits his time between Los Angeles and Yerevan, Armenia, where he has founded the arts foundation Creative Armenia. His production company Avalanche Entertainment (est. 2014) has produced I Am Not Alone and 1915, and a variety of forthcoming projects in film and television.
Serj Tankian acted a composer and executive producer on the project and he is a Grammy-winning frontman of the band System of a Down has long been a musical inspiration to the democratic struggle in Armenia. He is the film's composer and EP, and an interview subject. In addition to five albums with SOAD and five solo albums ranging from metal to jazz to orchestral symphony, Tankian has been composing films since 2015, including titles such as 1915 (2015), Intent to Destroy (2017), Furious: The Legend of Krovat (2017), and Spitak (2018). He is producing a forthcoming rockumentary about his journey as a musical activist, which is also directed by Garin Hovannisian.
Image Copyright: Serjical Strike Entertainment and Garin Hovannisian. Used with permission.
F2F Music and Image Copyright: David Peck and Face2Face. Used with permission.
For more information about David Peck's podcasting, writing and public speaking please visit his site here.
With thanks to Josh Snethlage and Mixed Media Sound.