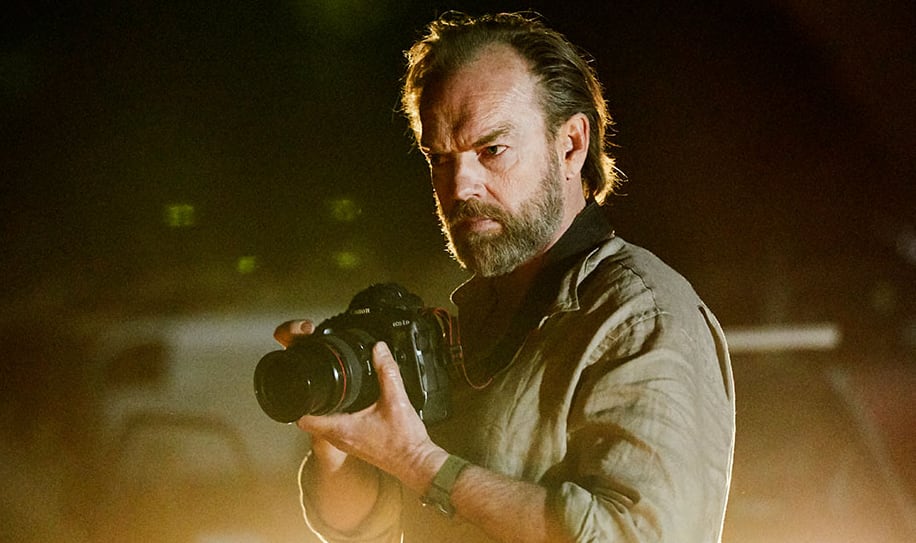 Hugo Weaving, Bolude Watson, Ben Lawrence, Andrew Luri and Face2Face host David Peck talk about their new film, Hearts and Bones, PTSD, relationships and hope, the power of community, the image and why finding our way home matters.
Synopsis:
War photographer, Daniel Fisher has returned home to the news of his partner's pregnancy. Determined not let fatherhood alter his way of life, he begins preparations for an upcoming exhibition and his next overseas assignment. However, as the birth of his child draws near he struggles to keep his rising anxiety hidden.
Meanwhile, South Sudanese refugee, Sebastian Aman has created a safe life in Australia with his wife and child. His peaceful life is disturbed when Dan's exhibition threatens to display photographs of a massacre that occurred in Sebastian's home village, 15 years earlier. When Sebastian approaches Dan with an appeal to not display any images of the massacre, an unlikely friendship develops between the men.
Bonded by their shared trauma, Sebastian introduces Dan to members of a community choir. These survivors of war offer Dan an escape from the anxieties of imminent fatherhood, much to the frustration of his wife. When Sebastian uncovers among Dan's photographic archive an image of his daughter, thought to have died in war, the men set about finding her.
Amid the search for the young girl, Dan unearths disturbing details surrounding Sebastian's past and the startling revelations threaten to destroy both families. Amid the pain, each man must face their painful past in order to regain their salvation.
Hearts and Bones – a story about hope and the mysterious bonds of family, friendship and fatherhood.
About our Guests:
Ben Lawrence is an internationally award-winning director and photographer. His short films have screened at Edinburgh, Clermont-Ferrand, Los Angeles, San Gio and Sao Paulo film festivals.
His photographs have been recognized at the International Photography Awards in New York, The Australian National Photographic Gallery Portrait Prize, the HeadOn Portrait Festival and The Spider Awards for photojournalism in London.
In 2018, his critically acclaimed debut feature documentary, Ghosthunter screened at multiple festivals around the world and was nominated for a prestigious Illuminate Award at the Sheffield Film Festival. It also earned an AACTA Award nomination for Best Feature Length Documentary and won the Best Australian Documentary Award at the Sydney Film Festival.
Hugo Weaving has enjoyed an enormously varied and successful career in film, theatre and television. He has won numerous awards, including three Australian Film Institute awards for Best Actor in a Leading Role – in Jocelyn Moorhouse's PROOF (1991), THE INTERVIEW (1998) – for which he also won Best Actor at The Montreal World Film Festival, and LITTLE FISH (2005). In 2011, he was an inaugural AACTA award winner for his performance in ORANGES AND SUNSHINE. In 2015 he won his second AACTA award for THE DRESSMAKER. In 2016 he won another for his work in HACKSAW RIDGE, and followed this up in 2017 with another for JASPER JONES.
Weaving is also well known for his roles in THE ADVENTURES OF PRISCILLA, QUEEN OF THE DESERT (1994), as Agent Smith in THE MATRIX trilogy, as Elrond in THE LORD OF THE RINGS and THE HOBBIT trilogies, and as 'V' in V FOR VENDETTA (2006). Other films include LAST RIDE (2009), CAPTAIN AMERICA (2011), CLOUD ATLAS (2012), MYSTERY ROAD (2013), THE MULE (2014) and STRANGERLAND (2015). Hugo's recent TV credits include PATRICK MELROSE released in 2018 and Australian series SEVEN TYPES OF AMBIGUITY (2016).
His many theatre appearances include Sydney Theatre Company's ARTURO UI, as well as HEDDA GABLER and UNCLE VANYA (both enjoying successful U.S. tours in 2006 and 2011 respectively, the latter earning him a Helen Hayes Award), MACBETH (2014), ENDGAME (2015) and WAITING FOR GODOT (2013) with a London season in 2015. He has also voiced characters in several highly successful films, including BABE, HAPPY FEET and TRANSFORMERS.
Andrew Luri was born in Juba, which is now the capital of South Sudan. He came to Australia via Cairo Egypt, to Darwin then to Melbourne. He is married and has seven children. Music is his hobby and he is a Church and community leader.
Andrew loves comedy and studied at Charles Darwin University, he also studied Counter Terrorism at Swinburne University. He is multi skilled and has had many different jobs over the years. Hearts and Bones is his first film and the culmination of a childhood dream.
Bolude Watson is a Nigerian born American raised actress. Moving to Sydney, Australia in 2014 from Los Angeles, has proven to flourish her career, staring in Ché Baker's SciFi film 'Blue World Order' as female lead Marion Connors and most recently she just wrapped the film 'Hearts and Bones' directed by Australia's brilliant director, Ben Lawrence where she played Anishka the wife of a South Sudanese immigrant with a dark secret.
Bolude's television credits include roles in shows such as 'Deadly Women' and 'Your Numbers Up'. Bolude is also co-creator with Michela Carattini of The web series 'Americans in Oz' which made its online debut last year.
As an African American and with a deep passion for story telling Bolude's goal is to be part of the movement that creates a space for diverse voices in film and television
Image Copyright: Hearts and Bones Films Pty Ltd, Spectrum Films Pty Ltd, Lemac Films (Australia) Pty Ltd, Create NSW and Screen Australia. Used with permission.
F2F Music and Image Copyright: David Peck and Face2Face. Used with permission.
For more information about David Peck's podcasting, writing and public speaking please visit his site here.
With thanks to Josh Snethlage and Mixed Media Sound.