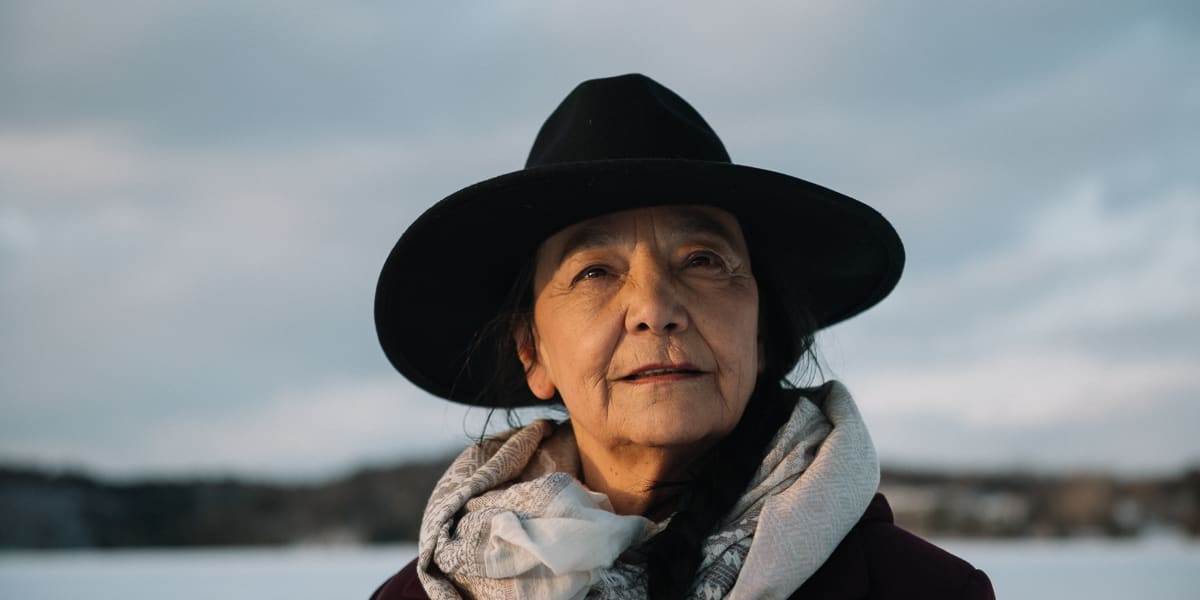 Darlene Naponse and Face2Face host David Peck talk about her new film Falls Around Her, Mother Earth, silence, love and laughter, Indigenous storytelling, shared stories and the Seven Grandfathers Teachings.
Synopsis:
Falls Around Her follows Mary Birchbark (Tantoo Cardinal), a legendary singer who returns to the vast wilderness of her reserve to reconnect with the land and her community. Mary begins to sense that someone might be watching her. Unsure of what is real and what is imagined, Mary embraces isolation as she explores the psychological impact of her past and present.
The idea for Falls Around Her came to writer and director Darlene Naponse about seven years ago, and over the years she would work on it between her many other artistic endeavors. Introduced to The Film Farm by producer Christine Haebler as a filmmaker to watch, producers Jennifer Weiss, Simone Urdl and their producing partner on the film, Jamie Manning, soon began chatting with Darlene. When Darlene showed them an early draft of the script, they immediately fell in love with it. The Film Farm would spend the next year or so collaborating on creative concerns and taking over all of the funding issues so that Darlene could concentrate on making the best film possible.
Honour the Seven Grandfathers teachings: Honesty – Wisdom – Respect – Bravery – Humility – Truth – Love.
Those words would accompany Falls Around Her's first callsheet and would be included in every callsheet during the shoot. For the Anishinaabe people, the Teachings of the Seven Grandfathers is a set of teachings on human conduct toward others. It was a daily reminder to treat all creation with respect and the cast and crew took those words to heart every day and it contributed to a joyful set.
About the Director:
Darlene is an Anishinaabe Kwe from Atikameksheng Anishnawbek – Northern Ontario. She was born and raised in her community and now works out of her studio located in Atikameksheng Anishnawbek.
She is a writer, film director, and video artist. Her film work has been viewed internationally including the Sundance Film Festival in 2001/2002/2003. Her latest feature "Every Emotion Costs", screened worldwide, winning various awards. Her art-based video work was installed in various galleries and programs nationally/internationally. She is currently working on a book of short stories. She worked with community leaders and elders to write and ratify the Atikameksheng Anishnawbek Gchi-Naaknigewin (Constitution). She continues governance and First Nations and/human rights work in her community. She owns Pine Needle Productions an award-winning boutique Film/Video/Audio Recording Production Studio, located in Atikameksheng Anishnawbek.
Darlene has built a wide range of work. She is passionate and pure as an independent artist. She remains creative control in all her films and continues to work with dedication to the protection of story, appropriation and respect to imagery, history, and tradition of First Nations people. Her work is deeply connected to her community, First Nations realities of the 21st century and
Mother Earth. Darlene is honored to listen to stories of sadness, rejoice, hope, rejection, reflection, optimism and an understating of just who we are as Native people living on Mother Earth.
As a storyteller, Darlene is in search of imaginative images giving truth through word, film, art and song.
Find out more about Darlene here.
Image: Copyright Darlene Naponse and The Film Farm. Used with permission.
Theme Music: Copyright David Peck & Face2Face. Used with permission.
For more information about David Peck's podcasting, writing and public speaking please visit his site here.
With thanks to Josh Snethlage and Mixed Media Sound.