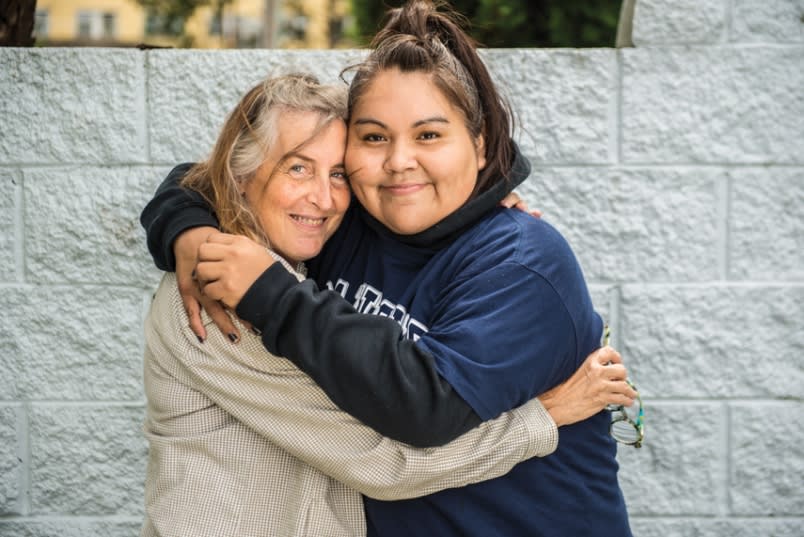 Melanie Wood and Face2Face host David Peck talk about her new film Living in HOpe, people as people, human centered healthcare, learning to live with others and why you should never ye your hair grey.
Living in HOpe-Trailer from Stranger Productions on Vimeo.
Watch the Series here on the Knowledge Network.
Synopsis
Living in HOpe is the culmination of more than a year of filming with unprecedented access at The HOpe Centre in North Vancouver. Each of the four Living in HOpe episodes offers a bold challenge to rethink how we perceive people living with mental illness.
One in three Canadians will experience mental illness or a substance use disorder in their lifetime, while more than 600,000 Canadians have reported needing mental health care that isn't provided. Despite this, and recent nationwide awareness campaigns to increase understanding of mental illness, there is still deep stigma associated with mental disorders, particularly those relating to psychosis or schizophrenia—as seen in the shame that many HOpe Centre patients experience.
"Often we hear about mental illness only after someone has recovered. As a society we are used to hearing—and wanting—success stories, but the reality for many who experience mental disorders is that it is a long, sometimes lifelong struggle," says Melanie Wood, writer and director of Living in HOpe.
"By sharing stories of patients even when they are at their most vulnerable, we better understand that people living with mental illness are not 'other'. They are just people. And they have a voice." The documentary's scenes are intimate, compassionate and dramatic. Patients share the circumstances that brought them to HOpe—and their dreams for the future. The series is surprisingly full of humour, jokes between patients, and witty remarks about their own illness.
Biography
Melanie Wood has written, directed, produced, and executive-produced a wide variety of current affairs and documentary programs. Her work as producer and documentary filmmaker reflects not only the pulse of the times, but the voices of those who inhabit them. Her work pursues themes that strike a personal chord, and indeed affect all of us in some way. Melanie's produced and directed two documentaries on the borderlands between the Internet and the human spirit.  Her documentary A Stranger In Our Home, the disturbing tale of two teenage victims of Internet predators, has been extremely popular for both broadcasters and educators around the world.
The groundbreaking documentary O.com, on cybersex addiction, was a finalist at the New York Festival. It also won the Platinum Award at Worldfest-Houston, the Jury Award at the Yorkton Short Film and Video Festival and was selected to screen at the Montreal World Film Festival. Her documentary, School Of Secrets, presents a tale of truth – and its consequences – in the story of a Vancouver teacher and the teenage girls he seduced. School Of Secrets premiered on The Lens on CBC Newsworld and won a Remi Award in Houston and a Gracie Award in New York for Best Documentary under 60 minutes.
Wood's international documentary credits also include To Have and To Hold, profiling the victims of stalkers, The Sweet Assassin revealing the devastating effects of diabetes in the First Nations community, On Wings and Dreams: The Men Who Built Canada's Airlines an historical documentary for Global Television, and Chasing The Cure: Brett Finlay, Man Against Microbe, a one hour science biography in a series for Paperny Films broadcast on Discovery Health.
Recently Melanie produced Carbon Hunters, a film by director Miro Cernetig for CBC, and BBC International. She also produced and directed The Difference Makers: with Rick Hansen, a prime time mini documentary series for Canada's Olympic Broadcast Media Consortium.  She is currently producing Liberia'77 in association with Knowledge Network. Liberia'77 is the personal photographic journey of director Jeff Topham that examines how despite time, war, distance and culture photography connects us all.
Find out more about Melanie's work here.
Image Copyright: Melanie Wood and Stranger Productions. Used with permission.
For more information about David Peck's podcasting, writing and public speaking please visit his site here.
With thanks to Josh Snethlage and Mixed Media Sound.