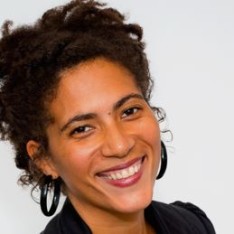 Ella is a change maker who is making it happen in a variety of ways. Listen is as she talks about her new film Black Men Loving, internalized racism, how she tries to build community through the arts and why she wants to raise the voice of the marginalized in Toronto.
Biography
Ella is an award winning multidisciplinary artist, creative facilitator, emerging filmmaker, arts educator and consultant. Ella has received continued project support from both the Canada and Ontario arts councils and has been presented in galleries, subways, gardens and the streets of Toronto, Vancouver and Calgary as well as on the CBC.
Ella is completing a Masters of Arts Education and extensive training in creative facilitation. She has created a multitude of empowering community centred arts, media and outreach programs for at risk youth, women's groups, not for profits, community centres/assistance programs, seniors and local school districts in Toronto, Vancouver, Surrey, Williams Lake and Montreal.
In her daily life, Ella is dedicated to community building through the arts. She has a strong background in community outreach, arts marketing, strategic planning, events management, volunteer development and social media/web services. She currentlyworks as the Senior Coordinator of the Neighbourhood Arts Network and is excited toplay an active role in helping to co-facilitate and disseminate PYE's facilitator trainings in Toronto. She is also leading the Body Land Identity Project (a national photo based project celebrating Black female identity across Canada) and has been running a numbero f film projects & youth media arts empowerment workshops this year for the Luminato Festival, Reel Youth and the Regent Park Film Festival.