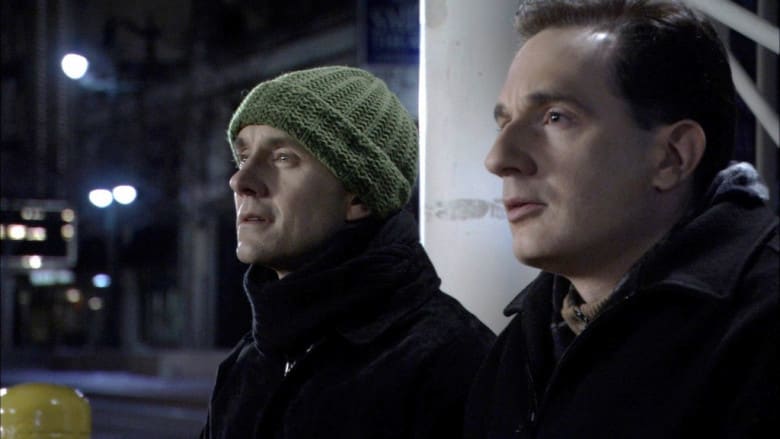 Don and I talk about the new film The David Dance, what it means to feel different, self-esteem issues, fitting in and his take on a story that has "universal appeal."
For more information about TIFF go here.
More info about the film here.
Synopsis
Away from the microphone, David (Don Scimé) is soft spoken, shy and unsure of himself. However, as his on-air alias, "Danger Dave" – host of the local radio show "Gay Talk" in Buffalo, New York – he's poised, witty and every listener's best friend. His sister, Kate (Antoinette LaVecchia), is a thrice-divorced banker with a yen for classical music and cats. Though successful, the siblings suffer from a secret, yet vast sense of inadequacy.  Kate decides to adopt an orphan in Brazil and asks David to be a father figure.
Meanwhile, David grapples with his self-doubts while gawkily romancing his co-worker. Past and present intertwine in this bittersweet winter's tale of a man learning to love and accept himself.
The film is the feature directorial debut of television vet Aprill Winney, who has worked as a script supervisor for over twenty years on shows like "Arrested Development," "Family Tree," and "The Fosters," for which she has also directed multiple episodes.
"The David Dance" is based on the Don Scimé play of the same name.
Biography
Don Scimé (David / Writer / Producer) performed in his play version of "The David Dance" as part of The New York International Fringe Festival and in Washington, D.C.
Other New York and regional theatre credits include original works at The Ensemble Studio Theatre; "Love's Labours Lost" for The Peterborough Players in New Hampshire; "Nighthawks" at The Studio Theatre (D.C.); "Stop Kiss" at The Shadowland Theatre; Treplev in "The Sea Gull" and The Actor in "The Lower Depths" (Theatre Row).
Television credits include "The Dave Chapelle Show". B.A.: Theatre, SUNY, Geneseo. A graduate of The American Academy of Dramatic Arts and The Academy Company, he received The Charles Jehlinger Award for Acting and The American Theatre Wing Scholarship.