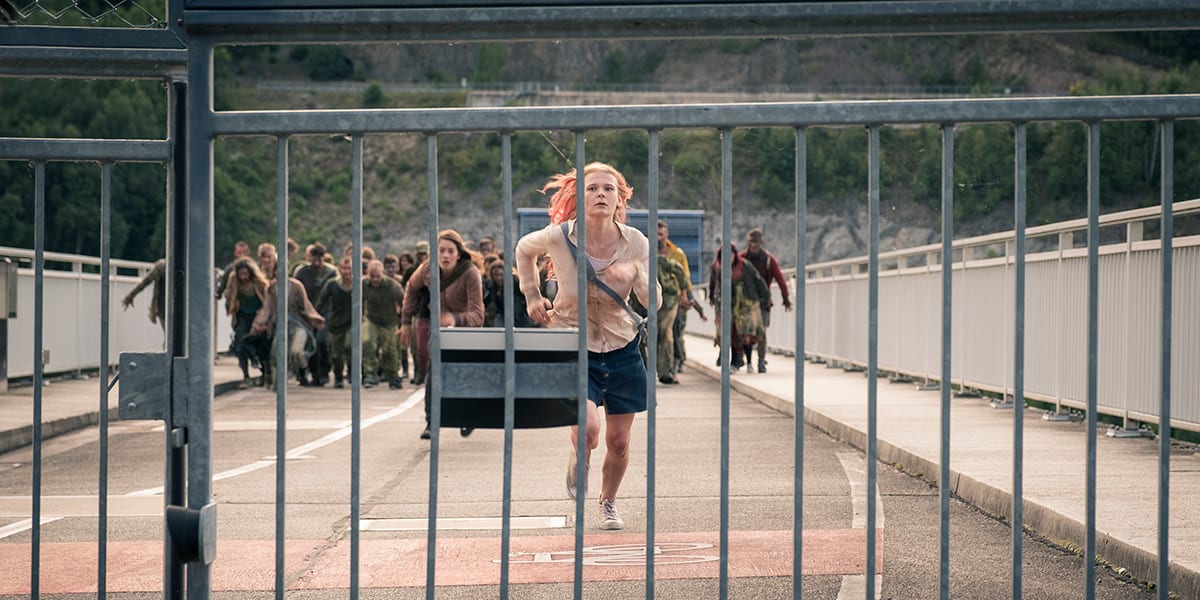 Carolina Hellsgård and Face2Face host David Peck talk about her gorgeous new film Endzeit (Ever After), faith in humanity, collective guilt, environmentalism and why having a positive view of the apocalypse is important.
Synopsis
Two years after the zombies have overrun earth, the German towns Weimar and Jena are possibly the last holdouts of human civilization. Endzeit follows two very different young women, VIVI (22) and EVA (26), who are involuntarily forced to join forces.
While fighting against the undead, they develop a strong friendship, and must also confront the demons of their past. Vivi is desperately trying to find out what happened to her little sister, whereas Eva dreams about starting anew, far away from her role as the expert zombie-killer and Weimar they have left behind.
Their adventurous journey takes place in a lush and beautiful apocalypse; now that the humans have gone, nature is taking over. But nature knows no boundaries and soon the two young women have to deal with a new and fantastic reality. In the end, their relationship survives it all.
Biography
Carolina Hellsgård is a writer-director, born in Sweden and based in Berlin.
She studied experimental media design at the Berlin University of Arts and film directing and screenwriting at Cal Arts in Los Angeles.
Her critically acclaimed debut feature film WANJA premiered at the Berlinale 2015 and was nominated for Berlinale Best First Feature Award. It won Best Screenplay and Best Feature Film Debut at the Biberacher Filmfestspiele. It was theatrically released in Germany in the summer of 2016.
Hellsgård's award winning films have screened in numerous international film festivals including Montreal WFF, Mostra Sao Paulo, Gothenburg IFF, Clermont-Ferrand, Filmes de Femmes and the Oberhausen Short Film Festival.
She has been a recipient of the Dorothea Erxleben Fellowship and a guest lecturer at the Braunschweig University of Art (HBK).
In 2017 she was a Villa Aurora Fellow in Los Angeles.
Image Copyright: Carolina Hellsgård. Used with permission.
For more information about David Peck's podcasting, writing and public speaking please visit his site here.
With thanks to producer Josh Snethlage and Mixed Media Sound.