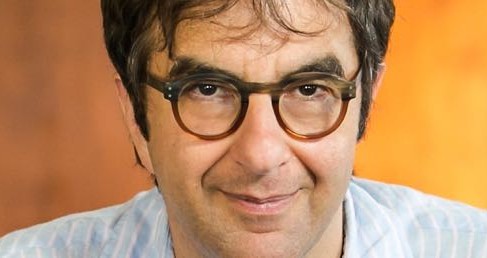 Today's conversation covered a lot of ground. Listen in as Atom speaks about his approach to understanding the human condition, remorse and reconciliation, national self-determination and the stories he tells.
Biography
With fifteen features and related projects, Egoyan has won numerous prizes at international film festivals including the Grand Prix and International Critics Awards from the Cannes Film Festival, two Academy Award® nominations, and numerous other honours.  His films have won twenty-five Genies – including three Best Film Awards – and a prize for Best International Film Adaptation from The Frankfurt Book Fair.  Egoyan's films have been presented in numerous retrospectives across the world, including a complete career overview at the Pompidou Centre in Paris, followed by similar events at the Filmoteca Espagnol in Madrid, the Museum of The Moving Image in New York and the Royal CINEMATEK in Brussels.
His body of work – which includes theatre, music, and art installations – delves into issues of memory, displacement, and the impact of technology and media in modern life. His latest feature, REMEMBER, stars Christopher Plummer.
Egoyan's art projects have been presented around the world including The Venice Biennale and Artangel in London. Steenbeckett became part of The Artangel Collection, an innovative alliance with the Tate. His installation, Auroras, was recently on view at the Maxim Gorki Theater in Berlin, in a program commemorating the centennial of the Armenian Genocide.
Egoyan directed the North American premiere of Martin Crimp's Cruel and Tenderfor the Canadian Stage theatre company in early 2012. His adaptation of Samuel Beckett's Eh Joe was presented by The Gate Theatre in Dublin, where it won The Irish Times/ESB Award for Best Direction before transferring to London's West End and The Lincoln Center Festival in New York.
Egoyan directed the contemporary Chinese opera Feng Yi Teng for the 2012 Spoleto Festival in Charleston and the Lincoln Center Festival, New York. It was performed at the Luminato Festival in 2013, following the remount of Richard Strauss's Salome with the Canadian Opera Company. Egoyan directed a new production Mozart's Così fan tutte for the COC in 2014. His award-winning production of Wagner's Die Walküre was performed in early 2015.
Egoyan is a member of The Academy of Motion Picture Arts and Sciences, the Directors Guild of Canada, the Directors Guild of America, the Writers Guild of Canada, the Writers Guild of America, and the Royal Canadian Academy of Art. He is an Officer of the Order of Canada.
Egoyan is honoured with a 2015 Governor General's Performing Arts Award.
Trailer for Remember