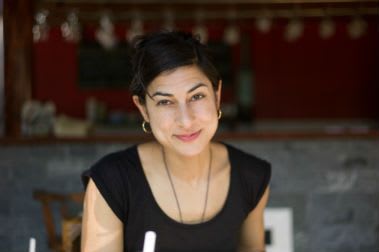 Anjali and I talk about the power of storytelling to change lives, her new film Gun Runners, friendship, the mediations of the marathon runner, the Global South and why we need to spend more time listening to others.
Synopsis
When it comes to world-class marathon runners, Kenyans are considered the cream of the crop. Particularly those from Kenya's Rift Valley. These athletes have won marathons in London, New York and Berlin, and have set countless world records. But some of Kenya's top runners aren't running for fame and fortune.
Some are wanted warriors, running for their lives. For years, Julius Arile and Robert Matanda thrive among the roaming bands of warriors that terrorize the North Kenyan countryside. By the time they reach their mid-twenties, stealing cattle, raiding and running from the police is the only life they know. So when both warriors suddenly disappear from the bush, many of their peers assume they are dead or have been arrested. Instead, they trade in their rifles for sneakers—in the hopes of making it big as professional marathon runners.
Years of fleeing from the police have prepared the men for running marathon distances, but do they have what it takes to overcome the corruption, mistrust and jealousy that threaten to derail their careers? Or will they give up on their dreams and return to a life of easy power and money?
Told entirely by its central characters, Gun Runners is the American Dream, Kenyan-style.

Biography
Anjali Nayar is an award-winning filmmaker, multimedia storyteller and journalist, based in Nairobi, Kenya.
Anjali is currently directing "Logs of War," a cross-platform documentary about activists using smart phones to expose land grabs and corruption in West Africa. She has also just finished post-production on "Gun Runners," an epic story (over 8 years) about two warriors, who trade in their guns for running shoes and the Kenyan dream of marathon running.

Beyond film, Anjali leads the TIMBY project, which brings together designers, techies and filmmakers, breaking divides to tell stories that change the world. TIMBY is a suite of digital tools that helps activists report, verify and tell stories safely and efficiently around the world.
Anjali has a Masters in Documentary from Columbia's Graduate School of Journalism, a Masters in Environmental Management from Oxford University and a Graduate degree in Space Science from the International Space University.
Anjali has also written and filmed extensively for Nature Magazine, Reuters, the CBC and BBC.
Besides work-stuff, Anjali spends a lot of time playing capoeira and making cake pops.
You can read more about Anjali and her new initiative here.