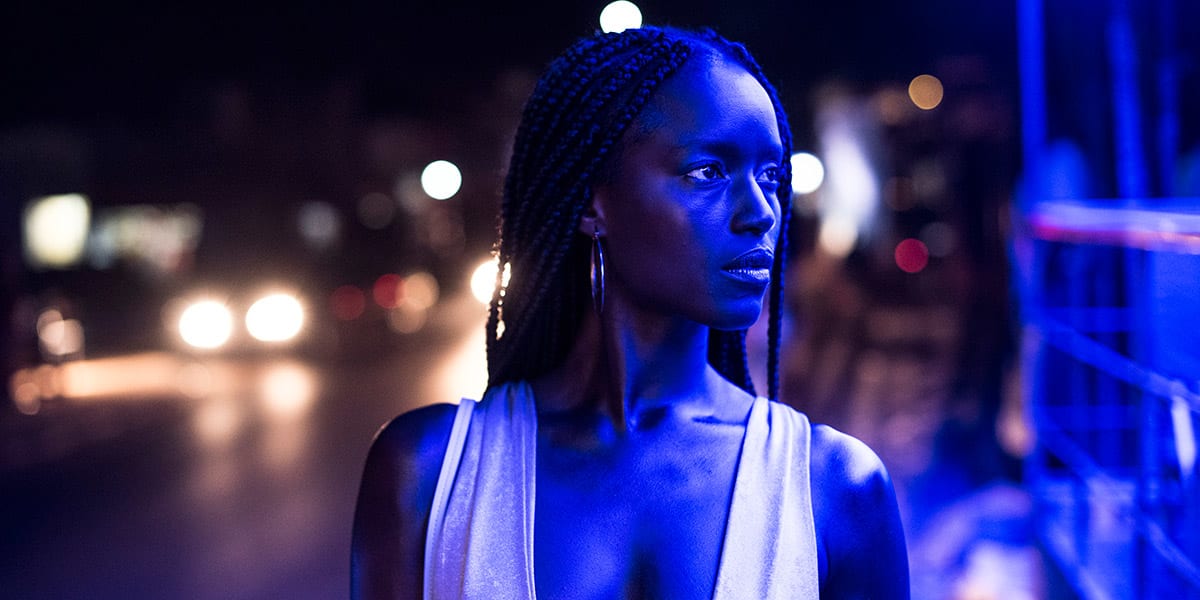 Koen Mortier and Face2Face host David Peck talk about his new film 'Angel,' hysterical and honest love, fantasy and relationships, the fate of celebrity, addiction and the profound existential choices we all make.
Synopsis
A fateful encounter between a Senegalese sex worker and a world-famous Belgian racing cyclist turns tragic, in director Koen Mortier's atmospheric and ephemeral film about finite bodies and infinite loves.
Lush, sensual, and hallucinatory, this latest film from auteur Koen Mortier is no ordinary love story. A wondrously cinematic adaptation of a novel by Belgian author Dimitri Verhulst, Angel tells the story of people from different worlds whose paths cross for one brief but unforgettable encounter.
Fae is a Senegalese sex worker and Thierry (Vincent Rottiers) is a world-renowned Belgian racing cyclist who has known both acclaim and disgrace. They meet when Thierry and his brother travel to Dakar for a holiday. Far from eager to explore the local sex trade — he normally needs to be in love to make love — Thierry finds there's something about Fae he can't deny.
Together they experience a communion that restores in both a sense of dignity and the promise of redemption. Then things take a terrifying turn and Fae is arrested, despite having done nothing wrong.
With its seductive colour palate of saturated reds, greens, and blues, Angel envelops us in a voluptuous embrace. Mortier's story telling is circular, prowling through past and present, dreams and fantasies. Rottiers's subtly graded performance is both touching and troubling, while N'Diaye, who viewers might recognize from Quebec director Robert Favreau's Un dimanche à Kigali, is simultaneously earthy and angelic. This is a stunningly provocative exploration of the limits of bodies and the limitlessness of love.
Biography
Koen Mortier was born in Beernem, Belgium. He studied at the Vrije Universiteit Brussel and RITS at Erasmus Hogeschool in Brussels. His directorial credits include 'Ex Drummer' and '22nd of May,' 'Angel' is his latest film.
At the age of thirty, he started making short films,  "A Hard Days Work", which won several international prizes. In 1999, he established Czar Production Company in Brussels with fellow director Joe Vanhoutteghem. Koen has directed many stunning commercials and was chosen the best commercial director in several countries and has won several awards – Belgium for Orange and TNT, Holland for RVs, Italy for Leroy Merlin and Germany for Hornbach.
Meanwhile, Koen started to direct feature films, 'Ex Drummer' (2007) premiered at the Rotterdam and the Toronto International Film Festivals. The film won awards at Fantasia Film Festival, Raindance, and the Warsaw International Film Festival. His next film '22nd of May' premiered at the Toronto International Film Festival and won awards at the Leeds, Mexico and Baghdad International Film Festivals.
Image Copyright: Czar Film and Koen Mortier. Used with permission.
For more information about David Peck's podcasting, writing and public speaking please visit his site here.
With thanks to producer TIFF's Kerri Craddock and Josh Snethlage and Mixed Media Sound.