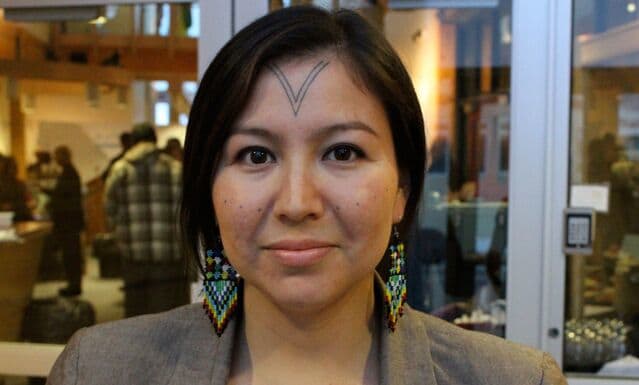 Alethea and I talk about her new film Angry Inuk, the "People of the Seal", cultural prejudice, setting the Inuit record straight, song battles and a new model for animal activism.
Synopsis
Anti–seal hunting campaigns have attracted high profile supporters, and with them, hefty financial contributions. From Pamela Anderson to Paul McCartney, celebrities have voiced their outrage about an issue they seem keenly unqualified to discuss. Meanwhile, seal hunters are unjustly targeted for traditional practices that have supported them for centuries.
With a way of life on the cusp of extinction, who's really at fault? How does a culture that exercises understated anger and finds peaceful ways to resolve conflict compete with animal activist groups that rely on anti-sealing sentiment they aggressively cultivate to underwrite their other causes?
Alethea Arnaquq-Baril uses her filmmaking skills to organize and embolden a new tech-savvy generation of Inuit to stand up for their rights. Establishing #sealfie on Instagram and skillfully employing social media, they lobby legislators and expose misinformation while staying true to their values in their fight for survival.
Angry Inuk (Clip) from NFB/marketing on Vimeo.
Biography
Alethea Arnaquq-Baril is an Inuk producer and director from Iqaluit, Nunavut. She owns Unikkaat Studios Inc. an independent production company which produces films about Inuit life and culture in Inuktitut-language.
Arnaquq-Baril directed her first film, Tunnit: Retracing the Lines of Inuit Tattoos in 2010, a documentary about her journey to explore the lost tradition of Inuit facial tattoos.
Arnaquq-Baril was also a co-producer of the documentary The Experimental Eskimos (2009), directed by Barry Greenwald. It tells the story of three twelve year old Inuit boys who were taken from their families in the 1960's to be raised by white families in Ottawa. The experiment in assimilation was painful and led to unforeseen consequences. The boys grew up to be effective activists in support of Aboriginal rights. She is now working on a documentary called Angry Inuk, about the Inuit response to the global anti-seal hunt campaign.
She says that because Inuit culture is primarily an oral culture, there is little written in Inuktitut about the past and she feels compelled to record it "while the last elders that traditionally lived on the land are still alive."
"Probably the most powerful thing I could do for myself and my fellow Inuit is to be a documentary filmmaker, because I don't know how else I can contribute to helping our voices be heard on the world stage, on issues that are critical to us."
Although Alethea did not produce a film for the 8TH Fire, she did an extended interview with us in which she talks about the history and impact of white colonization in the North, and about her recent film for APTN , Tunnitt: retracing the Lines of Inuit Tattoos. We use footage from this film to illustrate with thanks from APTN.
Read more about the film here.
Podcast: Play in new window | Download